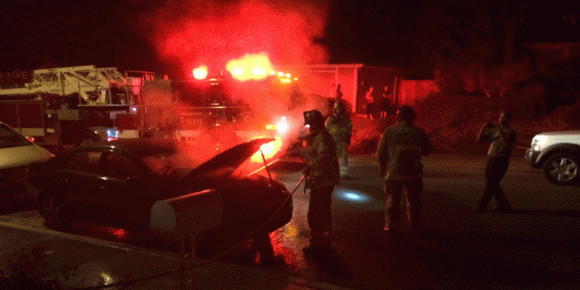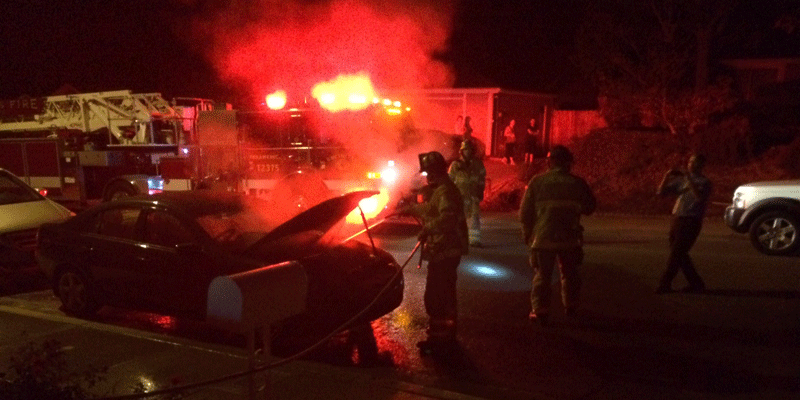 Last night, my husband's car caught fire and blew up in the street. It was parked in front of our house.
 
Around his car were twenty other parked cars owned by the parents of most the kids in my daughter's 6th grade class.
 
What the heck happened?
The backstory:
Our daughter Lexi is in Cotillion.
 
In San Diego, at least, Cotillion is a Madmen-style 1950s-1960s last-ditch attempt to teach our kids wedding dances and manners before they head into middle school.
 
The kids suffer through instructions and dances in hot stuffy suits and scratchy dresses and pantyhose at a very classy racetrack ballroom.
 
I offered to host a little swim party after the kids' first lesson to help break the ice, since few 6th grade boys relish wearing ties and dancing with girls. I asked all the parents to come too, to help us get to know each other.
 
So the kids are having a great time cannon-balling in the pool, my husband is mixing margaritas faster than the parents can gulp them, and the front and back doors to our house are wide open with parents and kids spilling from front-yard to back.
 
At around 10 pm, one dad says, "What's that?" and points out the front door.
 
My god, that's a fireball in the street.
 
That's my husband's car.