Reawaken to Love and Intimacy
Email to friend
Allow the Flow of Love and Intimacy to Grow
Love and intimacy must be nurtured and cultivated. Open the door to them and don't be afraid when they arrive. Be willing to say, "Yes, I want to feel understood, cherished, and admired. I want all kinds of good, connected relationships in my life. I want to be emotionally supported, and I'm done with going it alone."
Often, emotional storms in our lives leave us like derelict boats, detached and floating aimlessly. We feel disconnected, alone, untrusting, adn shut down. Perhaps we've moved, divorced, or let our friends slowly disappear into time. Maybe we got hurt and withdrew, and now we're reluctant to extend ourselves deeply into people's lives or allow them into ours, further blocking the flow of love and intimacy.
Reopen Your Heart
Instead, imagine a thriving circle of friends waiting to welcome you in. Imagine a group with your shared interests, waiting for you to join them in their adventures. Imagine a best friend who fits who you are today, and who's right beside you wherever you're heading. And finally, imagine a loving partner becoming closer to you than ever before, someone's who's excited to spend time with you and can hold your heart.
This Flowdream pulls down the barriers you built against being truly and deeply loved. It is a guided meditation for love that reignites that sacred flame inside you. It restores your confidence and power as you tell your Flow, "I deserve good relationships and emotional satisfaction everywhere in my life." And most of all, it places you directly in Flow where love and intimacy feel natural and free.
Use this Flowdream to:
reopen your heart and feel trust for others again
heal from being hurt, betrayed, or rejected
take down your walls and barriers to being loved
recover from feeling abandoned or broken from divorce or breakup
know that you are deeply loveable and wanted
task the Universe with brining you the right kind of people who'll cherish and support your healing
Enjoy more delicious Flowdreams like this one in the Release And Love Again Playlist, which helps you heal and move on from past relationships.
Or, if you're ready to walk into a beautiful relationship with your soul mate, try the Fall In Love Playlist.
"Program Your Life with Flowdreaming Audios & Meditations"
More Information

| | |
| --- | --- |
| Author | Summer McStravick |
| Type | Audio mp3(s) |
| Track Length | 19 minutes |
| Product type | Downloadable Audio |
| UPC CODE | 764575029193 |
| GTIN | 764575029193 |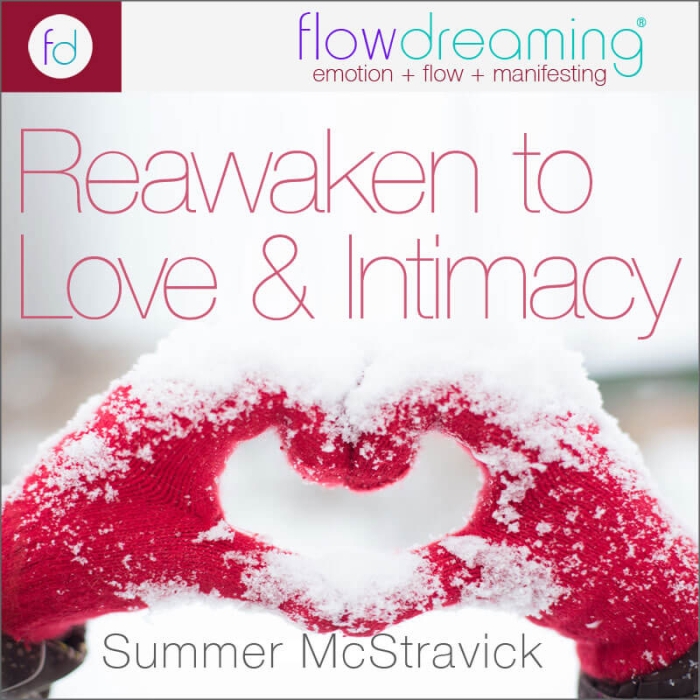 Update Required
To play the media you will need to either update your browser to a recent version or update your
Flash plugin
.
We found other products you might like!