Good Friends & Emotional Intimacy Playlist
Email to friend
Manifesting Friendship
Expand your circle of friends, and feel accepted and loved. This playlist brings the right people into your life and deepens your intimacy with those already around you. It includes the following tracks:
1. I Have So Many Good, Close Friends
Can you remember the last time you were with a good friend who loved, understood, and accepted you just as you are because they know you so well? When was the last time you were invited out for a fun evening or time spent with someone who shares your interests?
Our friends like us "just because" and are an important part of our support system, but even lifelong friendships can fade away when someone experiences something life-changing like a new job or moving away. This Flowdream creates divine flow for manifesting friends, both new and old, that you will love to be around.
Use this Flowdream to:
comfortably grow your friendship circle and meet new people
increase the intimacy you feel with your friends
know that your friends can be trusted and love you
reconnect with wonderful people from your past
never feel lonely or that you have no one to talk to
feel connected and wanted
manifest close friendships and love in your life again
2. Reawakening To Love and Intimacy
Love and intimacy must be nurtured and cultivated, so open the door to them and don't be afraid when they arrive. Be willing to say, "Yes, I want to feel understood, cherished, and admired. I'm done with going it alone. I want to be emotionally supported and have connected relationships in my life."
Often, emotional storms in our lives have left us floating aimlessly like derelict boats. Maybe our friends moved and slowly faded out of our lives, or perhaps we got hurt and are reluctant to let anyone else in. Instead of drifting through life alone, this Flowdream helps you manifest a group of friends who share your interests and are waiting to welcome you. Imagine becoming closer than ever before with either a loving partner or a best friend...or both!
Use this Flowdream to:
tear down your inner barriers and allow yourself to be deeply loved
manifest a thriving group of friends who can't wait to spend time with you
reignite the flame inside you and restore your social confidence
remember the natural and free feeling of love and intimacy
"Program Your Life with Flowdreaming Audios & Meditations"
More Information

Additional Information

Author
Summer McStravick
Type
Audio mp3(s)
Track Length

Track 1: I Have So Many Good, Close Friends, 14 minutes

Track 2: Reawakening To Love and Intimacy, 19 minutes

Product type
Downloadable Audio
UPC CODE
764575028363
GTIN
764575028363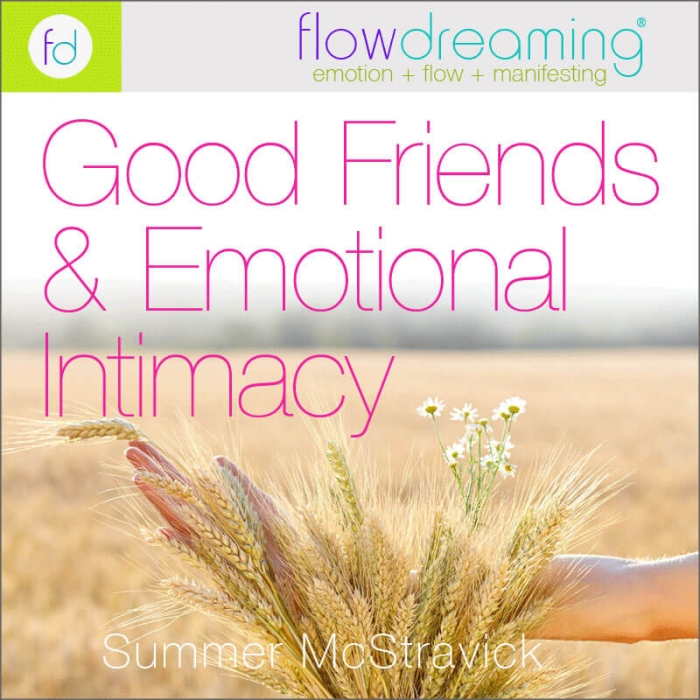 Update Required
To play the media you will need to either update your browser to a recent version or update your
Flash plugin
.
We found other products you might like!