Heal My Body (Feel Better Now) Playlist
Email to friend
Release stress and sickness, and feel better now! This playlist includes three tracks to help you resolve any health issue*, from small things like colds and allergies to larger health concerns that require ongoing, deep physical healing. Manifest better health and heal yourself with a powerful playlist.
What's Inside
Create deep, regenerative healing within your physical body by programming your body's energy blueprints with feelings of excellent, robust health. In this Flowdream, you're led to the "Fountain of Health" and will feel how healing energy penetrates your entire system to unlock your body's own deeply restorative and regenerative powers. Discover how you can heal yourself!
Be ready to reconnect with your body and help it restore its natural balance and health. Most importantly, during this Flowdream, your body "remembers" its original healthy state (where it was long before disease or illness took over) and returns to those perfect healthy blueprints, effectively resetting your cellular memory. You'll FEEL your new healthful blueprints unfold inside you as you give your body precise instructions to renew itself and sustain its own regeneration.
Use this Flowdream:
• to prepare for an easy successful surgery
• for lonstanding, chronic condisions
• for issues that create fatigue, sluggishnes, body pain, or difficulty with any bodily functions (breathing, sleeping, digesting, eliminating, etc.)
• for difficulties with processing toxins, allergies, yeasts, etc.
• for issues with hormonal imbalances, menpausal symptoms, or excess weight
• injuries, illness, and temporary health challenges
Also consider the playlist Cancer-Free Forever.

Heal yourself instantly and feel better right away! If your body is feeling ill or unhealthy ... this 10-minute Flowdream is just what you need. Specially created to address symptomatic conditions, it allows you to infuse your body with Flowing energy in just those areas where you need it. You'll bring in healing, flowing light and direct it where your symptoms are, allowing your energy self to absorb what it needs. You don't need to know any special healing techniques to use this mp3 to manifest health.
This Flowdream works by realigning any out-of-balance energy condition that's manifesting as physical symptoms. Ultimately, your body IS going to get over any pain, ache, or upset it feels ... this audio simply speeds that process along so you heal yourself faster.
Find symptom relief from:
Tension headaches & migraines

Cramps & PMS

Colds & Flu

Allergies & Asthma

Arthritis & Other Aches

Muscle pains

Lethargy & Tiredness

Fuzzy-Headedness & Mental Fog

Hangovers

Indigestion/Upset Stomach

Upset Bowels/Bloating

Anything bothering you that you want to heal quickly
3. Total Stress Release: A Flowdream Meditation
Use this unique Flowdream Meditation at the office, during lunch breaks, between classes at school, or whenever you need a COMPLETE BREAK from wherever you are. At just under 15 minutes, this audio track is a perfect length for a quick, quiet escape. Stress and pressure are not your enemies. Their job is to alert you to things in your life that are out of balance ... but all too often, we end up trying to maintain this out-of-balance state for way too long, and the result is grinding pressure and anxiety.
If you have:
Developed unexpected or odd health issues

Find yourself unable to sleep

Have noticed a growing distance between yourself and the people you love

Feel constant irritation, fear, worry, or anger

Can't seem to ever fully relax

Feel a kind of constant low-grade unease or unhappiness

Feel like you're facing things you can't resolve and feel confused about what to do next
... then you have STRESS! Get rid of it. You can do it, no matter what your circumstances may be. This is one of the best meditations on the market to help you LET GO of stress.
Heal Yourself Now!
Heal yourself through mindfulness. Explore all Health & Wellbeing Flowdreams today!
"Program Your Life with Flowdreaming Audios & Meditations"
DISCLAIMER: Please note that these tracks should not be a substitute for comprehensive medical care and is not intended or implied to be a substitute for professional medical advice, diagnosis or treatment, nor is this audio intended to diagnose, treat, cure or prevent any disease.

More Information

Additional Information

Author
Summer McStravick
Type
Audio mp3(s)
Track Length

Track 1: Deep Healing and Repair, 17 minutes

Track 2: Instant Self-Healing, 10 minutes

Track 3: Total Stress Release: A Flowdream Meditation, 14 minutes

Product type
Downloadable Audio
UPC CODE
764575028387
GTIN
764575028387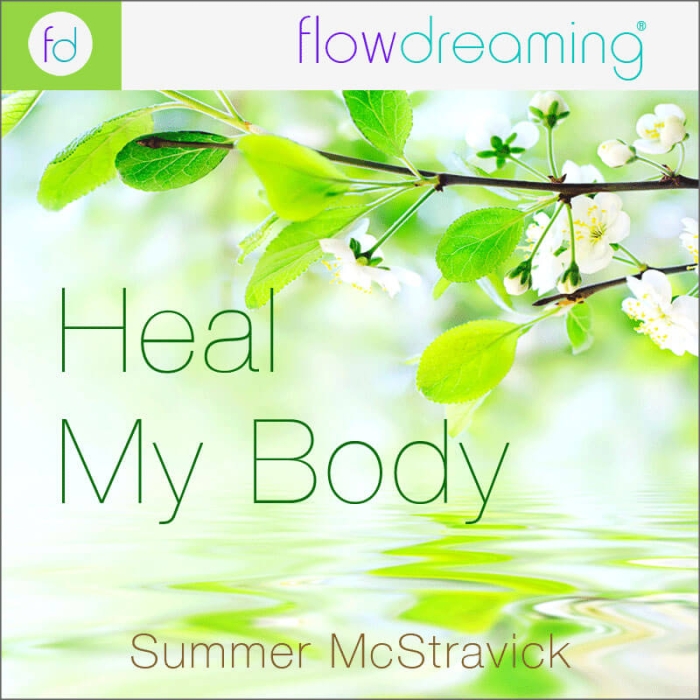 Update Required
To play the media you will need to either update your browser to a recent version or update your
Flash plugin
.
We found other products you might like!