Powerful Immunity & Protection Meditation Playlist
Email to friend
A Playlist of Meditations for Your Immune System
This meditation playlist for your immune system contains a powerful trio of audios designed to strengthen your mind, emotions, and body to ward off disease and illness. We all know that stress powerfully affects the ability of your body to defend itself. Now, with this meditation playlist for your immune system, you can nourish and build your immunity by both releasing fear and encouraging your body's inner cellular wisdom to activate.
Designed with upper respiratory viruses in mind, this playlist soothes and strengthens you, and helps rid you of the fears and worries that can attack your immune system—replacing them with feelings of power, health, and trust.
The track for your mind soothes the fear and worry that can tear down your immunity.

The track for your energy builds up your energetic self to withstand illness from inside out.

And the track for your body activates your ancient cellular wisdom to repair, clear, and protect yourself from illness.
This upper respiratory meditation playlist is designed either for meditation or to listen to as you fall asleep by filling your mind with powerful, healthy affirmations. It contains three tracks equalling over 60 minutes of play time.
Track 1: Calm, Confident & Relaxed Mind - 19:41 minutes
Play this track to:
release stressful thoughts and allow your immune system to strengthen

dispel any fear or worry about your health so you go forward with constantly healthy, positive thoughts

remind yourself that things will turn out well for you, and that you are exactly where you need to be right now
Track 2: Clear, Vibrant & Protected Energy - 21:47 minutes
Play this track to:
create health and robust immunity inside your energy field

prevent illness from entering your energy field by focusing on your powerfully healthy energy self

call on your wise soul-self to guide and direct you into health and strength
Track 3: Powerful, Strong & Intelligent Body - 21:28 minutes
Play this track to:
activate the ancient cellular wisdom already present in every cell of your body

uphold and expand your bodily immunity by recognizing your body's innate wisdom

release stress or worry from your cells and calling on strength and immunity to blossom through you
Other excellent tracks to boost your immunity include the Heal My Body Playlist.
"Program Your Life with Flowdreaming Audios & Meditations"
DISCLAIMER: Please note that these tracks should not be a substitute for comprehensive medical care and are not intended nor implied to be a substitute for professional medical advice, diagnosis, or treatment or to diagnose, treat, cure, or prevent any disease or illness.
More Information

Additional Information

Author
Summer McStravick
Type
Audio mp3(s)
Track Length
Calm, Confident and Relaxed Mind - 19:41 min
Powerful, Strong and Intelligent Body - 21:28
Clear, Vibrant Protected Energy - 21:47

Product type
Downloadable Audio
UPC CODE
764575066198
GTIN
764575066198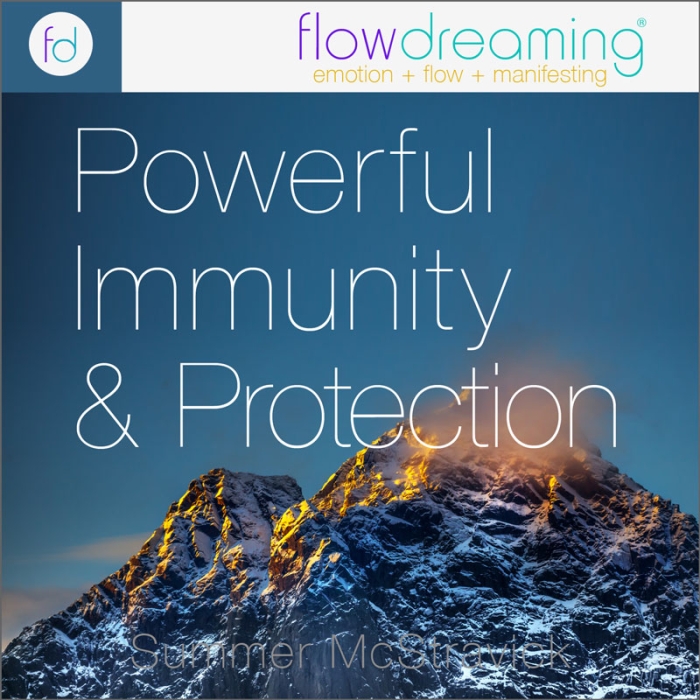 Update Required
To play the media you will need to either update your browser to a recent version or update your
Flash plugin
.
Powerful Immunity & Protection Sample Tracks
We found other products you might like!