Entrepreneur's Flowbook: Thriving, Wealthy Entrepreneur
Email to friend
If you want extraordinary growth, tons of sales, and support from every corner in your business , then you need to do more than just physical work—you need to set yourself up emotionally and energetically to manifest success and receive all the prizes a successful business brings you.
Each day, you'll start your morning with a short Flowdream (a type of meditation for business success), that sets up the energy for the day. You'll immediately feel how your day is a breeze — allowing in cash flow and giving you the resources you need to grow your reach, influence, sales, and manifest wealth.
Then when the day is done, you'll again play a short track that releases stress, sets up good energy for the next day, and asks the Universe to help you manifest success and eliminate any sources of conflict or blocks.
Not only that but each day you'll rotate through five different subject areas throughout the week. Each track in this manifestation book and playlist tackles one of the problem areas that business owners face and solves it with energy, emotion, and ease. When played regularly, these Flowdream meditations for business success transform your mindset in each area, allowing you to break through into new levels of success in your business.
These Flowdreams work hand-in-hand with our Prosperity Challenge and are better than any business book because unlike a book, you're emotionally practicing and sculpting energy inside your business every time you play a track. Your business is a reflection of you, and these Flowdreams are crafted to help you manifest success and achieve in terms of cash flow, clients, sales, and more.
(Note: Keep in mind that Flowdreaming is not meditation, although we sometimes refer to it as meditation since it helps beginners think of it that way as they learn the true form of this amazing, emotional, powerful technique)
These Flowdream Meditation Tracks for Business Success Include:
Track 1: An Entrepreneur's Start of the Day
You have plenty of time to get everything done - what a productive day!
Everything you experience today is positive and works out well for you.
You expect some wonderful new things to happen to move your business in the right direction.
Track 2: Monday – Clear Vision and Perfect Direction
You're one step ahead of everyone else.
It's easy to see the right direction to go in, and your vision for your work is crystal clear.
You make excellent decisions in your work that yield the best results.
Money flows in because you are totally on track with what you should be doing.
Track 3: Tuesday – Tons of Sales, Clients & Customers
Everyone wants what you offer, and you're totally booked, sold out, closing deals and making tons of money.
New clients flock to you because they can see how you are manifesting success—you even have a waitlist!!
Previous clients or customers return, adding even more to your bottom line.
This is one of the highest cash flow days of the month/year!
Track 4: Wednesday – An Amazing Team
the people around you, whether employees, peers or family, totally support you in your career
your team (venders, contractors, suppliers, employees, associates) work together easily and happily. They love being part of your business!
your team is loyal, efficient, and hardworking
anyone in your business who doesn't fit, is unhappy, or doesn't align to you is easily moved out and away from you and your company
Track 5: Thursday – Huge Cash Flow Now
Your paycheck rises, your income explodes with huge growth.
Cash comes in from all kinds of good sources, filling up your bank accounts.
You have all the money you need to grow your business, pay yourself and team, and you even have tons leftover.
You are floating in the energy of cash flow and income. It is attracted to you and flows in effortlessly.
Track 6: Friday – Impact & Being Seen
You experience tons of lucky breaks and beneficial connections.
Influential people and partnerships reach out to you to grow your business's visibility and reach.
You have mass exposure for your business — everyone hears about you!
The Universe supports and embraces your vision by creating circumstances, partnerships, and successful manifesting opportunities for massive publicly and reach to lift your business to the next level.
Track 7: An Entrepreneur's End of the Day
Today moved the needle — you experienced growth and increased cash flow.
You relax and release any problems from the day. Your mind is peaceful and ready for tomorrow.
You feel incredibly content, positive, and happy about your work. You know you're doing what you're born to do.
"Program Your Life with Flowdreaming Audios & Meditations"
More Information

Additional Information

Author
Summer McStravick
Type
Audio mp3(s)
Track Length

Track 1: An Entrepreneur's Start of the Day, 7 minutes

Track 2: Monday – Clear Vision and Perfect Direction, 10 minutes

Track 3: Tuesday – Tons of Sales, Clients & Customers, 10 minutes

Track 4: Wednesday – An Amazing Team, 10 minutes

Track 5: Thursday – Huge Cashflow Now, 11 minutes

Track 6: Friday – Impact & Being Seen, 11 minutes

Track 7: An Entrepreneur's End of the Day, 9 minutes

Product type
Downloadable Audio
UPC CODE
764575065894
GTIN
764575065894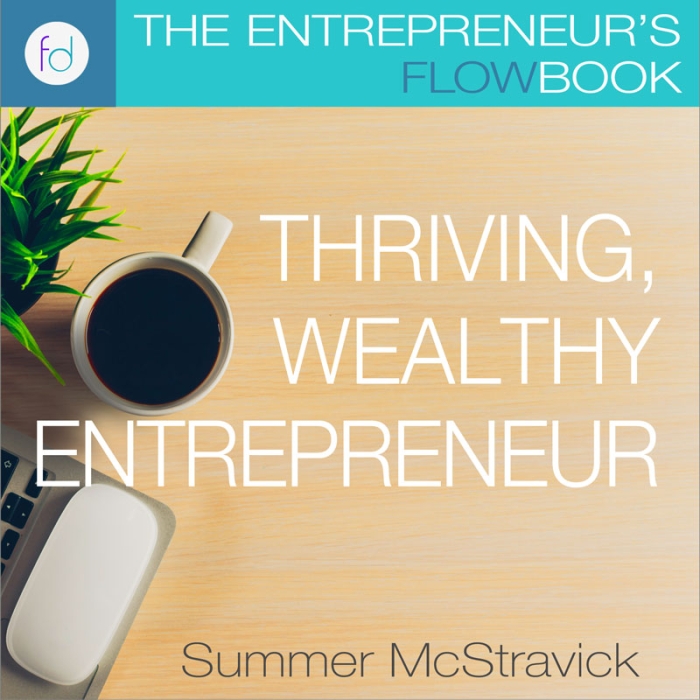 Update Required
To play the media you will need to either update your browser to a recent version or update your
Flash plugin
.
Samples
We found other products you might like!