Lucrative, Fulfilling Career Playlist
Email to friend
Time for some career growth or change? Manifest a perfect new job or field of work or get unstuck from any career that no longer suits you. A powerful playlist that changes your future.
This playlist contains the following three tracks:
1. Attract an Awesome New Career, or Transforming Your Current Job
Plunge into imagery and sensations to help you leap into a new line of work — one that easily opens for you, drops in your lap, and pulls you in.
Is there a problem at work? Do you have a bad boss or coworkers, or anticipate layoffs? Or is the job just not right for you somehow? Are you feeling stagnant or bored? Is there nowhere to go there?
Change it now and stop suffering.
This Flowdream can help bring you a new job OR open the door to a total transformation in your current job (if that is the better course) by "adjusting" the energies in your current workplace so that a fresh wind can blow through and carry away all the parts of your job or career that have become blocked or stuck.
The "problem-solving" portion of the track helps you task Flow energy with coming up with good, unexpected solutions that work for everyone.
You don't have to think in win/lose terms anymore — let your Flow devise new situations wherein you can shine and expand in your job, and everyone around you is happy for you.
Use this Flowdream to:
allow Flow energy to restructure your current work so that you come out a winner
allow flow energy to find you a NEW career opportunity if that's the best thing for you
solve seemingly "unsolvable" work problems (between you and your boss, or coworkers, or any other restriction in your workplace
feel what it's like to be happily in a new line of work, or in a changed position, where you can grow and expand in your skills, income, and contentment
2. My Dream Job
If you're looking for a new and better job, or wanting to transition into a whole new career, this is your Flowdream!
It doesn't matter if you're currently working but looking for a new position, or already in-between jobs. This Flowdream grasps the energies of the Flow and turns them toward finding a dream job for you.
Do any of these feelings come up for you when you think about changing careers, or when you're job-hunting?
"I'll never find a job as good as my last one."
"The only job I can get is one just like my last one, and I hated that one."
"I only find lower paying or entry-level positions that I can't survive on."
"I'm under-qualified, over-qualified, or otherwise not a good match for what I want to do."
"I have to work for someone else. I don't have the money to start my own business."
"I'm scared to give up my current sucky job, since I don't know if I can find anything better."
If you feel any of these things, then you've been energizing your Flow with all the reasons why it shouldn't bring you your dream job. Counteract that.
In this Flowdream, you feel all the wonderful, fulfilling characteristics of your job. These could be things like ... flexible hours ... working from home ... travel ... great colleagues ... supportive resources or management that's wildly enthusiastic about you ... lots of self-determination and empowerment ... the ability to indulge your creativity ... being able to make loads of money with no upper limit ... deeply fulfilling sociability or ability to "make a difference" ... or constructive quietude and alone time.
YOU decide what your dream job fulfills in you. This Flowdream helps you feel it while it sets up a template in your Flow to start making this happen.
You'll never achieve your dream job until you tell your Flow exactly what your dream job looks and feels like. You MUST give it the directions it needs to know what to go out and gather for you!
3. Raises, Promotions, and Recognition
Does someone or some place need to recognize your value? Is it time for a raise, promotion, or recognition of some sort?
Raise the energy of being recognized and rewarded for your contributions.
Maybe you haven't been seen or noticed enough lately. Maybe you've been taken for granted, or overlooked. Or maybe you're up for a raise or an award right now, and want to be sure you're seen shining brightly!
This Flowdream helps the energy of being recognized and rewarded to surround you and create an awareness of your value to others. This isn't about ego — it's about getting to a place where your value is rewarded and nurtured.
This is an excellent Flowdream for anyone who feels that the time has come for them to move up into a place where they have more resources — financially and professionally — in every way.
Use this Flowdream if you:
have felt you've been "passed over" too often, and don't know why
are wanting others to notice and value your contributions
have felt uncomfortable asking others to recognize or reward you
want move up at work or in your organization, and need others to support you and help you to do so
want more resources and opportunities to come your way in your career, so you can expand and reveal your true talents
"Program Your Life with Flowdreaming Audios & Meditations"
More Information

Additional Information

Author
Summer McStravick
Type
Audio mp3(s)
Track Length

Track 1: Attract an Awesome New Career or Transforming Your Current Job, 13 minutes

Track 2: My Dream Job, 18 minutes

Track 3: Raises, Promotions, and Recognition 15 minutes

Product type
Downloadable Audio
UPC CODE
764575028479
GTIN
764575028479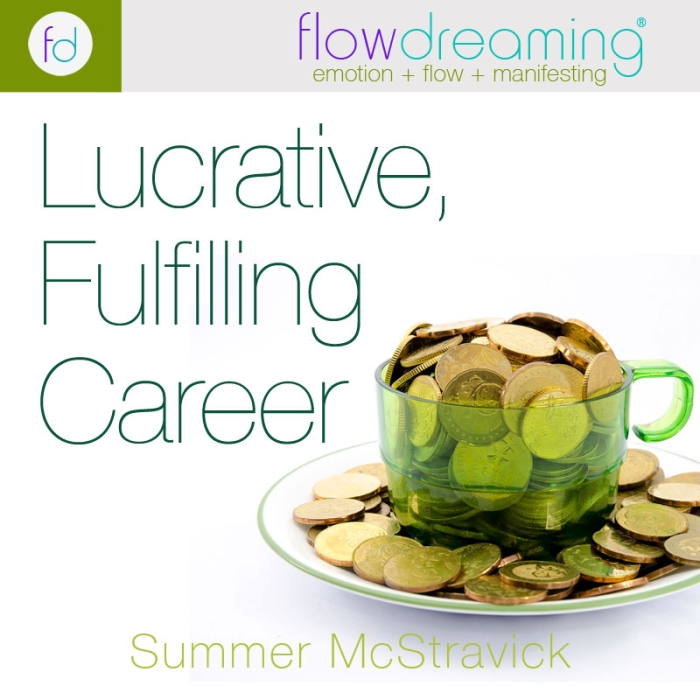 Update Required
To play the media you will need to either update your browser to a recent version or update your
Flash plugin
.
We found other products you might like!