Ready to Go Big! Playlist
Email to friend
Step Into A Better Life
Step into your next level in life. When you go big, you tell your Flow that you're ready for whatever growth and abundance should be coming next in your life. Create a vision of your future self even as you joyfully release all fear and generate happy anticipation for the successful person you're truly becoming. This playlist pushes you to become your best self!
This playlist contains the following three tracks:
1. Beyond Fear
Fears are insidious, and half the time, they go around masquerading as something else: self-doubt, insecurity, aversion to risk, inability to say what you want or how you feel, indecision, and confusion. Once you get in the habit of peeling back the layers and looking for fear at the heart of each thing that holds you back, you'll find fear almost everywhere.
This Flowdream lets you discover how you feel beyond your intrinsic fears. It's a place unique to you, where you are unstoppable, strong, powerful, and utterly free. This Flowdream is similar to a guided abundance meditation, but so much more powerful! It tells the Universe you're ready for a real change, and you are set to release fear. You're ready to stop hanging back, and start to live a life without fear. Once you taste this feeling, you'll see why this Flowdream ranks in our Top 10 Most-Loved Flowdreams!
Use this Flowdream to:
discover where your fears are and how they hold you back
encounter your "fear-free zone" and allow it to start guiding you in your daily life
feel the delicious freedom of making choices without fear or doubt
___________
2. Going Big
Many of us have been taught since childhood not to put ourselves ahead of others. You're told to "play nice" and share. If you have an astounding skill, downplay it so you don't come across as arrogant or egotistical. Over time, we hesitate just enough when stepping forward that someone else leaps in front of us and we end up with second-best in areas from relationships to promotions. You find yourself suffering from insecurities like, "If I truly go for something, what happens if I fail or it is a huge mistake? What if I end up broke or alone?"
This highly potent Flowdream is not the easiest to describe, because honestly, it's about unlocking some critical part of yourself in the Flow. What level of success can you attain if you have no fears that others will be jealous or critical, or that something unpleasant will happen? Discover what it's like to blaze past your former "ceilings" of success and into a new, vibrant, and more lavish territory.
This Flowdream allows you to:
feel yourself finally fully embracing who you are, what you can do, and what you're capable of becoming.
let yourself off your leash to pursue whatever it is that you want to build or create — either the business of your dreams, the lifestyle you pine for, or the loving partnership that was only a fantasy before.
release fear and free yourself to Go Big, and see just what that means to you.
___________
What will you be like in one year? How about five? Will you be healthy? In love? Content? Happy in your work? This Flowdream helps you identify precisely how you want to be and feel as the Future You. You'll release fear and get a full-body, mind, and spirit RUSH as you project yourself, in your Flow, into this person you're becoming. And of course, this future-you has a life that's smooth, frictionless, and wonderful! You're satisfied in every way, and you feel and look great!
You'll program in good things for your future and experience them with this Flowdream. You'll see how anything that feels out of alignment, harmful, or painful has been fixed in your future. The BEST part of this particular Flowdream is how you completely and solidly feel about yourself as this person you will become, leaving no doubt in your mind or your energy. You directly bring your Future Self into your "now," which is a powerful way of programming what's to come.
Use this Flowdream to:
understand what it is you truly want (not what you think you want)
let the Future You show you what it wants to become
genuinely grab the feeling and emotional intensity of what you will be like
feel the ease with which any problems resolve themselves as you "look back on" how easily things fixed themselves
This playlist is a gorgeous alternative to guided abundance meditations because it both reprograms your energy and helps you manifest and co-create by using flow, emotion, and guided daydreaming to achieve spectacular effects. If you haven't tried Flowdreaming before, this is a perfect playlist to start with.
"Program Your Life with Flowdreaming Audios & Meditations"
More Information

Additional Information

Author
Summer McStravick
Type
Audio mp3(s)
Track Length

Track 1: Beyond Fear, 23 minutes

Track 2: Going Big, 16 minutes

Track 3: My Future Self, 21 minutes

Product type
Downloadable Audio
UPC CODE
764575028547
GTIN
764575028547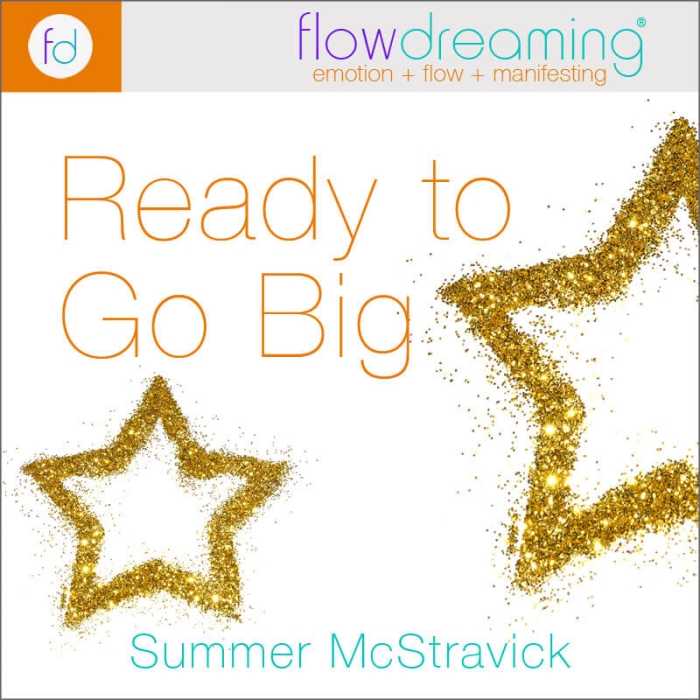 Update Required
To play the media you will need to either update your browser to a recent version or update your
Flash plugin
.
We found other products you might like!