Reclaim My Power & Speak My Truth Playlist
Email to friend
Owning Your Power
If you've been "playing small" because you're afraid to say what you need to say and express who you are, then this playlist is for you. It opens you to your authentic, resilient nature and clears all obstacles and fears away from speaking your truth. Let Flow help you create the right circumstances to express your needs easily (without drama) even as you feel your inner power rise.
This playlist contains the following three tracks:
Whenever you feel drained and exhausted or as if life isn't listening to you, then you're in the perfect place to play reclaim your power. It's about owning your power and taking your energy back from situations and people who habitually grab it from you. Feel your power. Feel your strength. You'll learn how to never let other people rob you of your power and strength again.
Using this Flowdream often helps prevent power leaks, which are constant and ongoing siphons of your inner power and the energy. If you don't plug these leaks, you won't fill up with good, enriching, and sweet Universal power. Plugging the leaks helps you move forward and away from old situations, expectations, or people that suck your energy. This is an All-Starr Fan Favorite Flowdream!
Working with this Flowdream will allow you to:
be in charge of your energy and never again lose your power to other people
discover who and what has been sucking your power
let go and release people and problems that hold you back
xxpress your feelings freely and without fear or guilt
Feeling safe, secure and protected is key to owning your power in everything you do, think, and are. And if you think "safety and security" have to do with merely personal safety or being in safe surroundings, you're thinking of only the most base-level security. This Flowdream lets you program in feelings of being surrounded by people, places, and situations that cannot harm or hurt you, and whose negativity isn't aligned to your life.
Use this Flowdream to:
create feelings of deep inner security. No one can harm you or hurt you inside.
create physical security in the form of a good home and stable, great work
develop emotional security by only allowing good, supportive people into your life.
create protection all through your life
stay on track and feel divinely guided and sheltered from all harm
be protected from unsafe places or destructive people, or situations where other people might be taking advantage of you.
What needs saying? What's bottled up, stifled, and you won't let it out? What do you think that's doing to you, day after day, year after year? It's stopping your Flow and preventing you from owning your power. It may even be making you sick.
"Speak My Truth" is a Flowdream that allows you to express what needs expressing. What's more, it creates fluid, easy openings and opportunities for you to express yourself in the safest, most supportive, and open environment possible.
Too often, we keep quiet because we're afraid. We anticipate adverse reactions, and we "already know" how our words or feelings will be received. This Flowdream helps you change that by using the power of speaking your truth. Instead of approaching a conversation with fear, you approach it by owning your power with confidence, knowing that it will turn out a million times better than you could ever imagine.
Use this Flowdream to:
resolve family drama or have overdue conversations with friends
talk to your boss with clarity and confidence
solve issues with your partner in spontaneously gentle, open, and loving moments
create spaces and opportunities for the best conversations to take place
start to get to know yourself again, after months or years of "being someone else" for someone in your life
feel intensely powerful and trusting that the Universe (Flow, Source, God) has your back, and will help you once you commit to opening up to owning your power
"Program Your Life with Flowdreaming Audios & Meditations"
More Information

Additional Information

Author
Summer McStravick
Type
Audio mp3(s)
Track Length

Track 1: Reclaim My Power, 22 minutes

Track 2: Safe, Secure and Protected, 15 minutes

Track 3: Speak My Truth, 14 minutes

Product type
Downloadable Audio
UPC CODE
764575028554
GTIN
764575028554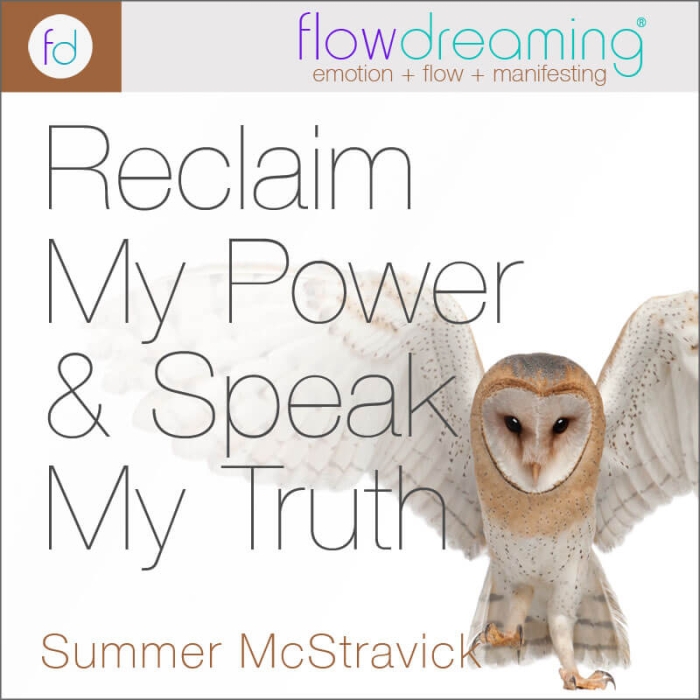 Update Required
To play the media you will need to either update your browser to a recent version or update your
Flash plugin
.
We found other products you might like!