My Hugely Successful Business Playlist
Email to friend
Get universal help as you start or grow your hugely successful business! Attract clients and customers and feel the resources and money you need pour in.
This playlist contains the following two tracks:
1. Start or Grow My Hugely Successful Business
Create a huge, successful business with the help of this Flowdream. You'll feel how clients, customers, or sales pour in. You'll feel how your Flow is constantly bringing you the resources (opportunities, lucky breaks, people, finances) you need, right when you need them. You'll feel yourself in the center of income and prosperity as your business expands and grows. If these are things you need, then with this Flowdream you'll create the energy templates to galvanize your Flow into action, and you'll feel amazing too!
Entrepreneurs often get stuck in traps of needing more exposure, needing more clients or sales, or feeing like they don't have the resources (like money) they require to get their businesses going or get them to the next level. These are all traps that come from your own thinking, and not how your Flow has really lined things up for you. This Flowdream helps you pour the exact opposite feelings into your Flow. This means you'll soon encounter the opposite of a failing or straggling business: your work will expand, grow, and become as profitable as you dare it to be. Play this Flowdream daily or weekly to create strong, vibrant alignment with a huge, booming, lucrative, and intensely fulfilling business.
In this Flowdream, we cover:
feeling how Flow brings you the people, resources, and opportunities you've been begging for
feeling rich and abundant, with lots of profit and material success from your work
feeling how the clients, customers, or businesses you work with love you and your products or services, and how they choose you because you are such a perfect fit for them
feeling your own love for your business, instead of showering it with fears, worries, and frustration (and therefore creating more thereof!)
feeling Universal support and guidance that you can trust and rely on; that you are not alone as you endeavor to expand yourself through your business
2. Tons of Clients, Customers, or Sales
Do you want a thriving, big business with tons of happy customers and clients? Do you want to stop feeling apprehensive about approaching potential new customers? Would you like to let go of all worry that you'll do enough business or sales to make it each month? Overcome your worry that what you offer the world isn't good enough, or that no one will want it, or that you will be rejected for offering it.
This Flowdream helps you recognize the true value of your products or services and helps draw in enthusiastic, excited customers or clients who have been looking for exactly what you have for them. You'll flow in a group of wonderful people who think YOU are marvelous and that what you OFFER is marvelous, and they must have it! You'll flow in people who'll THANK YOU for sharing what you do or offer with them. What a perfect exchange!
This Flowdream is helpful to anyone who wants to:
create a large group of repeat clients and sales
have the perfect clients or customers just flow your way, easily!
know that the people who come your way (leads, prospects, potential customers) have all been led to interact with you and your Flow, for the positive best
release all anxiety and fear of rejection or feeling like a "pushy sales type"
feel deeply assured that every "no thank you" may lead to a yes further down the line, so every "no" just rolls off you with no attachment
remain positive, enthused and happy about your work with people
"Program Your Life with Flowdreaming Audios & Meditations"
More Information

Additional Information

Author
Summer McStravick
Type
Audio mp3(s)
Track Length

Track 1: Start or Grow My Hugely Successful Business, 16 minutes

Track 2: Tons of Clients, Customers, or Sales, 15 minutes

Product type
Downloadable Audio
UPC CODE
764575028509
GTIN
764575028509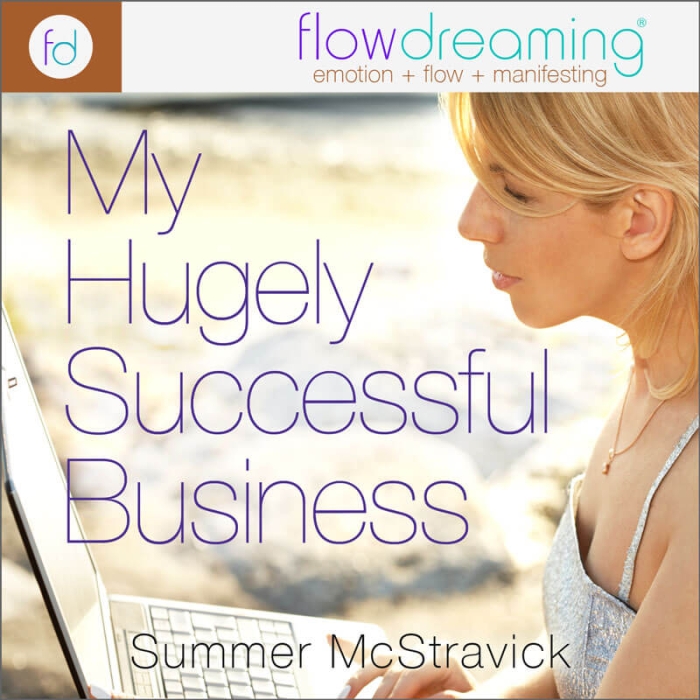 Update Required
To play the media you will need to either update your browser to a recent version or update your
Flash plugin
.
We found other products you might like!