Email to friend
Guided Meditation for Anxiety Relief
Are you waking up at night, unable to sleep as your mind chews on one scenario after another? Are you sometimes consumed with a feeling that something terrible is going to happen, but you don't know what it is? Do you feel immobilized and unable to leave your house or pick up the phone?
Or, maybe you're familiar with straight-out panic attacks, where your own body starts to scare you, and you worry you're going to die because something feels so wrong.
Instant Anxiety Relief
Whether you're experiencing paralyzing fear and anxiety or lying awake for hours with a mind that won't shut down, you now have a tool to help resolve both and bring you instant anxiety relief and clarity. This guided meditation for anxiety relief will help you find instant relief to help you feel clear-headed, relaxed, and at ease. You don't need to let sleepless nights, anxiety, or panic attacks rule you any longer. Instead, experience instant anxiety relief with this soothing Flowdream
Over the years, we've received dozens of emails from customers who've said Flowdreaming has helped them do the miraculous: from leaving their home for the first time in years to ridding themselves of panic attacks forever. This Flowdream is designed to help you steer your emotions into new channels of hope, peace, and even joyful anticipation.
Instant Relief for Any Form of Anxiety
Your anxiety may stem from issues related to relationships, money, family, your health—anything. Regardless of the problem, the soothing words and intense emotion present in this Flowdream work to stop and even reverse your immobilizing fears, helping you regain control of your mind and feelings and bringing instant anxiety relief.
Those of you with generalized anxiety (that impending sense that something is wrong, or will go wrong) will be especially appreciative of how the guided imagery and emotional content in this Flowdream will help you feel better instantly, even when you don't know what your fear is precisely about.
This Flowdream instills you with a growing sense of optimism and control inside yourself — bringing peace, clarity, and an immediate relief from anxiety.
Manifest Peace and Inner Healing
There are simply no other guided meditation audio products like this on the market today. By working with the more in-depth energy templates of our lives, Flowdreaming can impact your emotional state to help you manifest a sense of calm, making this Flowdream an ideal complement for those who are using medications as well as for those who choose not to.
Even better, unlike traditional guided meditations for anxiety relief that simply soothing you, this Flowdream actually rebuilds you so your panic attacks and anxiety control you less and less.
Use this Flowdream to:
get immediate relief from anxiety and fears that feel like they are hovering over you
prevent or quickly recover from panic attacks
soothe yourself back to sleep with instant anxiety relief, knowing that all is well
resolve worrisome situations
regain feelings of peaceful, calm equilibrium all the time
develop a relationship with your emotions where you're the boss
Get the most from this collection of stress-reducing Flowdreams by using the Immediate Relief from Depression or Anxiety Playlist that this Flowdream is part of.
DISCLAIMER: Please note that this mp3 should not be a substitute for comprehensive medical care and is not intended nor implied to be a substitute for professional medical advice, diagnosis or treatment, nor is this audio intended to diagnose, treat, cure or prevent any disease.
"Program Your Life with Flowdreaming Audios & Meditations"
More Information

| | |
| --- | --- |
| Author | Summer McStravick |
| Type | Audio mp3(s) |
| Track Length | 22 minutes |
| Product type | Downloadable Audio |
| UPC CODE | 764575029001 |
| GTIN | 764575029001 |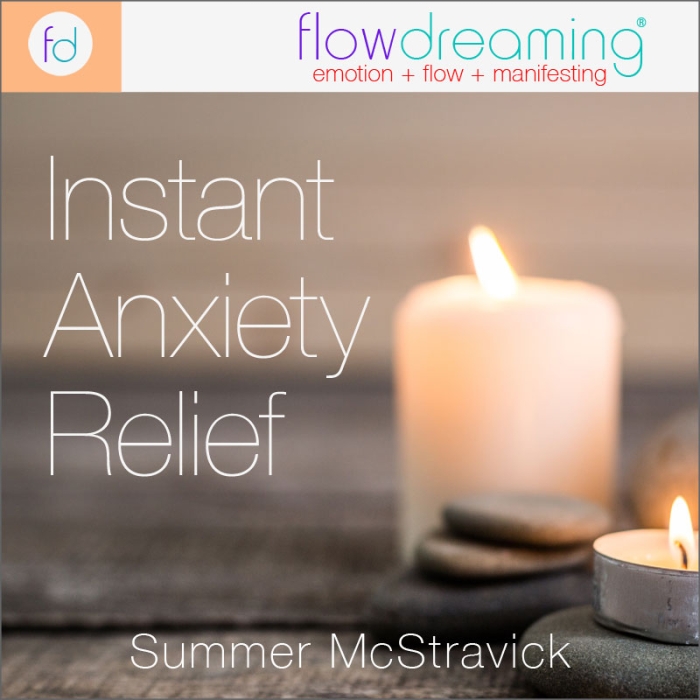 Update Required
To play the media you will need to either update your browser to a recent version or update your
Flash plugin
.
Samples
We found other products you might like!