Email to friend
Meditation and Weight Loss
Use this Flowdream as a precise guide to show your body how you'd love to look and feel. Too often we nag, plead, and try to force our body to "get it in shape."
Let's try a different, more effective method: share your positive, Flow-charged feelings with your body about how you want it to look and how you want to feel about yourself. "My Ideal Body" is a focused Flowdreaming mediation and weight loss audio that's proven to be highly effective in helping you reshape your body with positive, encouraging feelings.
Change How You Feel
In this Flowdream, you create a blueprint based on the feelings you want to have about your body. Then, you unleash your cells to start moving toward that blueprint. For example, your feelings in your Flow about your body might be: "I express the inner me in perfect physical form. I feel healthy and energetic. My weight is absolutely perfect for my optimum fitness. My body physically reflects and radiates whatever parts of my inner being shine through most: perhaps beauty, or strength, or self-assurance." These feelings become part of both your body and Flow as they reshape your self-talk and help your body truly understand what you want from it.
Manifest Weight Loss
This Flowdream combines meditation and weight loss concepts to guide you to feel how your beautiful, perfect inner being radiates through and into your external physical self. Your external form (body) then begins to match the true inner you, creating a perfect reflection of each other.
We focus heavily on our physical form and appearance in this Flowdream, but we do it from a "higher" perspective. We want to engage Flow and our deeper selves to create a body for us that more closely matches our feelings for how we know we look and feel inside. We don't want a "mismatch" of an unhealthy or unfit body that doesn't perfectly reflect our true beauty and being.
Use this Flowdream to:
create positive reinforcement with meditation and weight loss while dieting or starting an exercise program
reverse the negativity and sense of powerlessness over your weight and appearance that you've bombarded your body with in the past
allow new, positive feelings to arise about parts of your body that you've always "hated"
offer your body positive alternatives for how certain parts of it appear or feel
If you like this Flowdream, consider the Lose Weight Now Playlist, which includes this Flowdream in it, or the Love Myself Inside and Out Playlist, which also includes this track.
DISCLAIMER: Please note that this mp3 should not be a substitute for comprehensive medical care and is not intended or implied to be a substitute for professional medical advice, diagnosis or treatment, nor is this audio intended to diagnose, treat, cure or prevent any disease.
"Program Your Life with Flowdreaming Audios & Meditations"
More Information

| | |
| --- | --- |
| Author | Summer McStravick |
| Type | Audio mp3(s) |
| Track Length | 16 minutes |
| Product type | Downloadable Audio |
| UPC CODE | 764575029070 |
| GTIN | 764575029070 |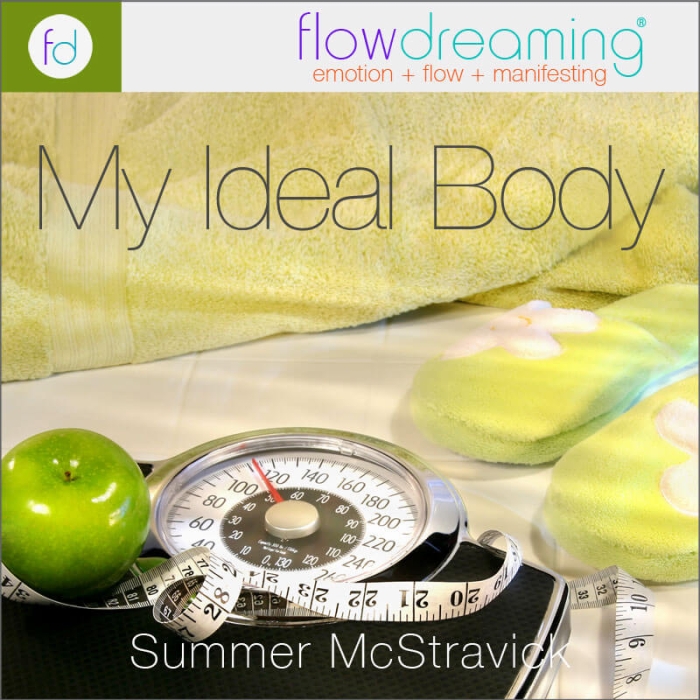 Update Required
To play the media you will need to either update your browser to a recent version or update your
Flash plugin
.
Samples
We found other products you might like!