Manifest My Ultimate Best Outcome Playlist
Email to friend
Is there something you really need and want to happen? This playlist helps you create it by offering up the feelings of "this or better" along with a powerhouse of strong manifesting energy. The finale is the secure knowing that you've received your wish, because you feel so grateful for having it! These three Flowdreams are a powerhouse 1-2-3 punch! Whatever you're looking to create, this playlist gives you the needed focus, emotion, and gratitude.
This playlist contains the following three tracks:
1. Supercharged Manifesting
Finally, a Flowdream to help you increase your fundamental manifesting power! With this Flowdream, you'll go right to where your emotional energy emerges and learn to precisely control the degree of feeling you generate. Flowdreamers know that we communicate to the universe through emotion. By learning to release, accept, and gain control over your emotional self, you become an immensely more powerful manifestor. In this Flowdream, you're taught how to instantly access your emotional reserve and apply it to your manifesting.
So many of you have said that you find it difficult to create an emotion "on demand." This Flowdream is an exercise that helps you do just this. We don't know of any other meditation or exercise ANYWHERE that helps you learn this incredible skill. After years of training, Summer (the creator of Flowdreaming) can instantly summon any emotional state within herself — including sublime happiness. Instead of being a victim to her emotions, she's learned that through practice, you can learn to command them. She applies this skill to her manifesting, and you can learn how too.
Use this Flowdream to:
deepen your connection to your emotions, especially if they feel repressed or shut down
learn to instantly create an emotion on demand that you can apply to all your other Flowdreams
reconnect with your emotional self, and feel intense acceptance for how you were made and how you feel
Are you unsure if what you're asking for is right or not? Now this fear is solved: Just bring your particular desire to mind, then say to your Flow: "Bring me this or BETTER." You'll get your wish if that's the BEST thing for you, and if it isn't, you'll get what's even better! Too often we get caught up in the "how and when" of our desires, and inadvertently cripple our Flow with hopes that we've crimped with our negativity or lack of faith.
2. This Or Better: Manifest Anything
Now, you can fully feel what you want and radiate it into your energy field, and yet remain confident that Flow will alter it as it sees fit to give THIS OR BETTER to you. You don't have to fear that you're asking for the wrong thing ever again. Just feel what you want, then let Flow give you that or even better.
Use this Flowdream to ask your Flow for the VERY BEST outcome ... one that makes you and everyone you love so happy ... even if you have no idea what that could be, or how it could happen.
Use this Flowdream to:
address ANY problem in your life (Flowdream is open-ended: you insert your hope/fear/problem/dream)
ask for help and guidance to get the BEST result, whatever that may be
3. Super Juicy Gratitude
Why do so many people emphasize the power and intensity that gratitude creates in you? Gratitude is an emotional powerhouse. It cuts through frustration, bypasses forgiveness, and strikes right the the heart of the power of NOW. "I HAVE this! I'm so thankful I ALREADY RECEIVED it!" How do those statements make you feel? Gratitude allows you to unconditionally accept what the universe/God/Flow offers. It allows you to feel that not only did you deserve what you received, but you didn't have to be anything other than what you are already are in order to have earned it. In other words, you are already so magnificent that the Flow has simply bestowed on you an array of amazing things: your body and health, your family, your home, and anything else you want to add to the list.
Practicing feeling love and thankfulness for what you already have actually INCREASES the amount and depth of other good things that come to you, like a magnet attracting more of the same.
Use this Flowdream to:
get back in balance and out of frustration
immediately kindle a feeling of being content with whatever is on your plate
pull you out of despair or urgency
powerfully rev up your Flow to attract more of the goodness that already exists in your life
"Program Your Life with Flowdreaming Audios & Meditations"
More Information

Additional Information

Author
Summer McStravick
Type
Audio mp3(s)
Track Length

Track 1: Supercharged Manifesting, 15 minutes

Track 2: This Or Better: Manifest Anything, 16 minutes

Track 3: Super Juicy Gratitude, 28 minutes

Product type
Downloadable Audio
UPC CODE
764575028486
GTIN
764575028486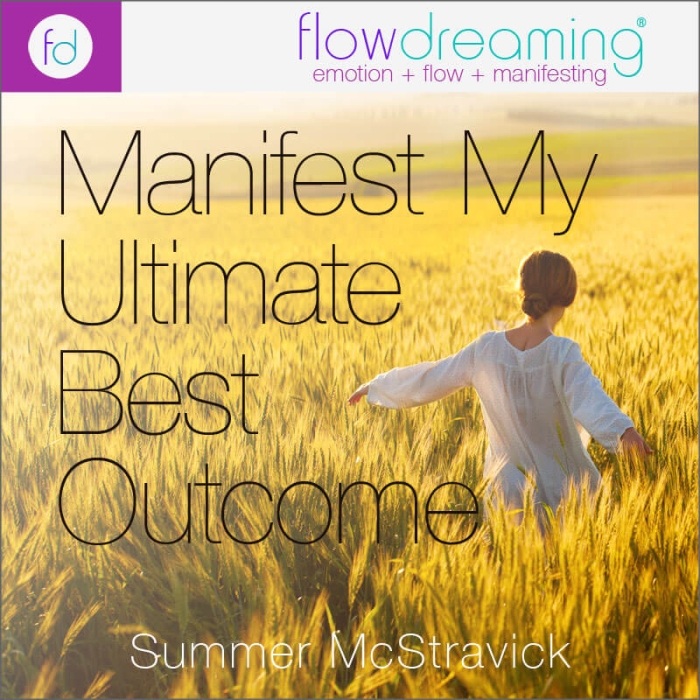 Update Required
To play the media you will need to either update your browser to a recent version or update your
Flash plugin
.
We found other products you might like!