Email to friend
The most feminine, sumptuous playlist we offer! Awaken your romantic and beautiful feminine energy, own your emotional power, and fully unconditionally accept how gorgeous, talented, and loving you truly are both in body and soul. (This playlist is female-focused.)
This playlist contains the following three tracks:
1. Awaken My Feminine Power
You can't play small with this Flowdream! It gets you in touch with your deepest feminine nature: both the strong, fierce warrior goddess in you, and the soft, yielding princess. The truth is, we women are both: fierce and fragile, strong and vulnerable. Sometimes we've been taught to value one over the other, and we live a lopsided-femininity. With this Flowdream, you awaken the complete YOU. Be ready to go deep into your emotional self to reclaim your sexiness, desirability, mental strength, physical beauty, and your strong loving heart.
You'll remember that you are, indeed, the complete package. Be prepared to "go there" and acknowledge your needs and desires — and program the Flow to meet them.
Use this Flowdream to:
enhance your awareness of how beautiful you truly are
open and accept your sensual self
create an instant on-demand buzz of energy around your gorgeous strength and personality
integrate any disconnected or shut down parts of your femininity
learn to love and honor your feminine self, so you can use the inherent power in it
grow and deepen your inner power by accepting every aspect of who you are and what you need
recover from trauma around physical intimacy
2. Beautiful As I Am
Get into that strong, empowered place in yourself where you feel at the top of your game. It's the feeling you get the day you get a raise at work, happen to be wearing your best outfit, your hair is amazing ... and all your friends think you are so amazing.
Imagine being able to experience that heady feeling about yourself whenever you want ... instead of waiting for that perfect, random and rare day. Radiate a sense of being desirable, attractive, and totally comfortable with yourself. Experience a sense of confidence and power wherever you go, whatever you do. Feel total self-acceptance about your body or appearance.
Use this Flowdream in so many situations ... from getting ready for a date to shoring up your self-confidence before walking into work! Note that this Flowdream alternates wording between "beautiful" and "attractive" and "handsome." So men, think of your "inner beauty" ... and ladies, you can just as easily feel "handsome." This Flowdream is for everyone!
3. Emotional Ecstasy
Do the words "emotional ecstasy" scare you ... or intrigue you? What is your relationship to joy, inner power, and emotional fulfillment? Chances are that like most people, you rely on other people and "the world" to serve up your peak emotional experiences to you. You don't get joy or ecstasy without someone else offering to bring them out in you.
This Flowdream totally reconstructs your understanding of how you are allowed to feel good, and when you're allowed to feel good. You'll learn that you can be in a state of pure and utter joy and rampant fulfillment just by calling those feelings into yourself. You don't have to wait for anyone, or anything. nd those feelings will not be hollow ... rather they become the template for all kinds of actual physical events to shape themselves around. This is manifesting at its finest.
"Program Your Life with Flowdreaming Audios & Meditations"
More Information

Additional Information

Author
Summer McStravick
Type
Audio mp3(s)
Track Length

Track 1: Awaken My Feminine Power, 18 minutes

Track 2: Beautiful As I Am, 17 minutes

Track 3: Emotional Ecstasy, 18 minutes

Product type
Downloadable Audio
UPC CODE
764575028356
GTIN
764575028356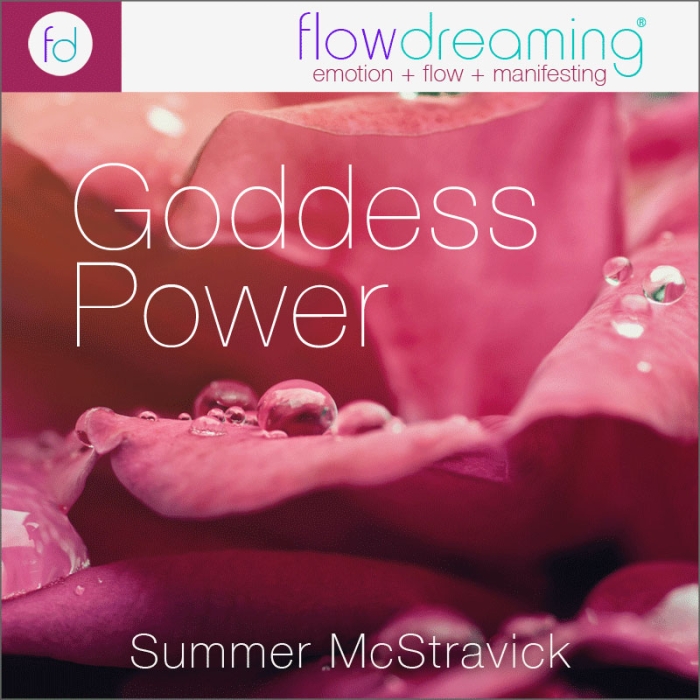 Update Required
To play the media you will need to either update your browser to a recent version or update your
Flash plugin
.
We found other products you might like!