Fall In Love (Magnetic Attraction) Playlist
Email to friend
Manifest Love
Develop your energies so the right partner walks into your life at the right time. Use this playlist to create a new landscape inside yourself, allowing love to take root and grow.
This playlist contains the following three tracks:
1. Bring in the Love of Your Life
Have you been waiting for the perfect partner to enter your life—the one who makes you feel like you've met your best friend, loves you no matter what, and makes you feel like you can be yourself? Do you remember what it feels like to be deeply in love?
Open yourself to be ready to manifest love and let the fireworks fly! This Flowdream is similar to a relationship meditation, but unlike a meditation, it's infused with rich, delicious emotion. Listen to this track to help you find your perfect partner in the energies of Flow (no matter where they are in the world) and call them into your life. You'll actually "sense" the feeling of this partner and how you both awaken to each other's energy and begin drawing nearer. Divine timing will always be in play when you're meeting the person you fall in love with, but why not state clearly to the Flow that you are ready now for your partner so you're present and prepared to get the energies moving?
Use this Flowdream to:
use Flow energy to arrange the quickest and easiest way to meet
open yourself fully to allow the perfect loving relationship into your life
generate intense, persistent Flow energy that calls in your partner and tasks your Flow with arranging all the details
let go of any power that's keeping you single or blocking you from receiving a loving partner
Get in touch with the best friend who is never going anywhere: YOU! You'll experience tremendous self-confidence and deep self-acceptance as you explore your own heart in this genuinely delicious Flowdream. Once you really learn to love yourself first, you can then love other people unconditionally.
Even if you already feel the right amount of self-confidence, self-acceptance, and self-love, this Flowdream to manifest love will surprise you by peeling back layers to show you where any one of these feelings may be surprisingly deficient. These "low spots" can be your secret enemy as they manifest themselves through self-sabotaging behaviors, victim-feelings, and by preventing you from directly "going for it" in your life.
Use this Flowdream to:
finally understand what's so unique and Source-filled inside you
feel what it's like to be able to love others unconditionally
understand where your insecurities are, gently uproot them, and lovingly let them go
remember all the parts of you that are exceptional and worth loving
remind yourself of who your best and oldest friend is, and why you should pay more attention to yourself if you want life to improve
finally accept who you are in every way without judgment, fear, or shame
3. Reawaken to Love and Intimacy
Love and intimacy must be nurtured and cultivated, so open the door to them and don't be afraid when they arrive. Be willing to manifest love and say, "Yes, I want to feel understood, cherished, and admired. I want all kinds of good, connected relationships in my life. I want to be emotionally supported and I'm done with going it alone."
Picture a group of friends with your shared interests waiting for you to join them in their adventures. Imagine a best friend who fits who you are today and who's right beside you wherever you're heading. Envision a partner becoming closer to you than ever before and excited to spend time with you. Play this Flowdream to manifest love and see what or who your Flow will bring to you to help you achieve your next level of deep fulfillment.
This Flowdream allows you to:
bust down the barriers to being loved deeply and truly
reignite that sacred flame inside you to restore your confidence and power
discover how manifesting love feels natural, free, and trustworthy so you can remember those feelings again in your life, and change your Flow to match and embody them
Remember, a Flowdream is similar to the guided relationship meditations you may be used to using, but are also richly different! Each one is crafted to bring you into a deeply emotional, trusting, and manifestational state of being. Once you experience one, you'll feel the difference!
"Program Your Life with Flowdreaming Audios & Meditations"
More Information

Additional Information

Author
Summer McStravick
Type
Audio mp3(s)
Track Length

Track 1: Bring In The Love Of Your Life, 16 minutes

Track 2: Dazzling Self-Love, 20 minutes

Track 3: Reawakening To Love And Intimacy, 19 minutes

Product type
Downloadable Audio
UPC CODE
764575028301
GTIN
764575028301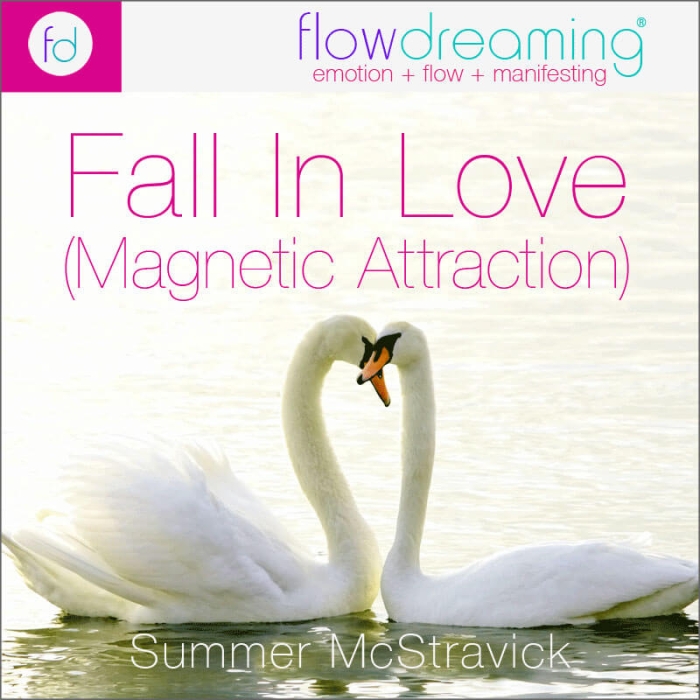 Update Required
To play the media you will need to either update your browser to a recent version or update your
Flash plugin
.
We found other products you might like!