Heal My Relationship Playlist
Email to friend
Know the right words to say and the right outcome to manifest with this playlist designed to help open communication and resolve relationships issues.
This playlist contains the following three tracks:
1. Perfect Communication and Intimacy
Are you feeling physically or emotionally shut down from your partner? Romantic relationships can become stale, brittle, or even antagonistic — leaving us feeling trapped, discouraged, or romantically uninterested. The question is: Do you want to stay in this place, or instead use Flow energy to gently reopen the connection between you, and "start fresh" with clear, open communication so you can finally get your needs met ... or at least find out where you stand?
Don't suffer anymore from "not knowing" how your partner feels. Don't worry and wonder. And don't hold your own feelings back, afraid to share what's important for you. Use this Flowdream to open and prepare channels of connection between you, so you can begin communicating your feelings while your partner really listens. You'll ask Flow energy to create the most perfect situations for your newborn dialog to occur — points when you and your partner are both fresh, receptive, and open. You won't have to worry about "how or when," it'll just be right.
Use this Flowdream to:
reignite a foundering relationship into one that is again exciting, fresh, passionate, and committed
open clear, honest communication between you and your partner in a safe, positive environment
get beyond the stalemate or emotional dead-zone you're experiencing with your partner
allow Flow to figure out the best resources and timing to help you with the healing in your relationship
ignite passion, sex, and physical attraction where it's waned or disappeared
finally feel like you can do, be, and say whatever you need ... and your partner listens and helps you make positive changes for the best
2. Relationship Problem-Solving and Making the Right Decisions
Do you stay, or do you go? What does your partner want? Are you right for each other? This Flowdream helps you and your partner discover the best possible solution to your issues, as you both act from your highest place. Feel your partner in the Flow with you, as you listen deeply and lovingly to each other and express your fears, worries, upsets, and anything else that needs to be aired and moved through.
Really feel your partner present with you and experience sharing, releasing, and finding a solution ... pre-acting these feelings into the Flow to allow Flow to find you the best conditions for actually doing this in your "real" life. Feel joy at knowing that the right and best decisions are being made, and that you and your partner have all the resources you need to figure things out ... for the absolute best for both of you!
The Flowdream will also lead you back into that point when the two of you were both blissfully happy with each other, thereby pulling this energy back into your Flows again.
Use this Flowdream to:
release anger and disappointment between you and your partner
be led to the most perfect, healthy actions with each other
create a win-win so you're both happy with your newly discovered solutions
remember what your ideal relationship feels like with each other, and generate more feelings of love and admiration between you
Strong, Healthy Boundaries
Develop strong, healthy emotional boundaries in all your relationships. This Flowdream gives you the direction and permission you need to take care of yourself and stop allowing other people to tell you who you are, why you're wrong, and how you should act if you want to be loved. You'll actually SEE where your current boundaries have been ripped or torn down. Your relationships should heal you and help you grow and expand your confidence and your self-trust. If they aren't, you've got a boundary issue.
All your relationships will improve once you stop allowing other people to make you feel wrong, doubt your own hunches, or act in ways that sacrifice your self.
Use this Flowdream to:
regain your inner power and light trust that you ARE RIGHT, no matter what someone says
see through manipulation easily understand that you no longer need to support other people in their beliefs about you, or make them be right
allow others to work through their own stuff, instead of enrolling you into them
see exactly where your boundaries have been crushed or overrun in your relationships
let go of the need to rescue victims or people who end up making you feel worse even when you're doing your best
"Program Your Life with Flowdreaming Audios & Meditations"
More Information

Additional Information

Author
Summer McStravick
Type
Audio mp3(s)
Track Length

Track 1: Perfect Communication and Intimacy, 18 minutes

Track 2: Relationship Problem-Solving and Making the Right Decisions, 16 minutes

Track 3: Strong, Healthy Boundaries, 17 minutes

Product type
Downloadable Audio
UPC CODE
764575028400
GTIN
764575028400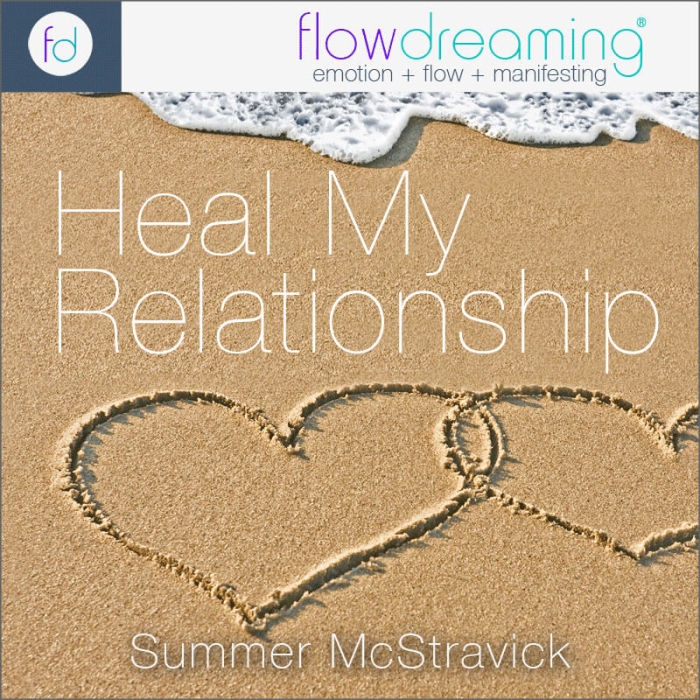 Update Required
To play the media you will need to either update your browser to a recent version or update your
Flash plugin
.
We found other products you might like!