Ultimate Self-Love & Self-Worth Playlist
Email to friend
Whether you're recovering from a past relationship or struggling with a current one, this playlist allows you to let go and feel better, immediately.
This playlist contains the following three tracks:
1. Dazzling Self-Love
Get in touch with your best friend again: YOU! Feel tremendous self-confidence and deep self-acceptance as you explore YOUR OWN HEART in this truly delicious Flowdream that feels like a bubble bath for your heart. If you want to love other people more, better, and unconditionally, you'd better make sure you start with yourself, FIRST. Even if you already feel a good amount of self-confidence, self-acceptance, and self-love, this Flowdream will surprise you by peeling back layers to show you where any one of these feelings may be surprisingly low. These "low spots" can be your secret enemy as they manifest themselves through self-sabotaging behaviors, victim-feelings, and through preventing you from simply "going for it" in your life.
Working with this Flowdream will allow you to:
finally understand what's so unique and Source-filled inside of you
feel what it's like to be able to love others unconditionally
understand where your insecurities are, then gently uproot them and lovingly let them go
remember all the parts of you that are special and worth loving
remind yourself of who you best and oldest friend is, and why you should pay more attention to yourself if you want life to improve
finally accept who you are in every way, without judgment, fear, or shame
2. Reclaim My Power
Whenever you feel drained, exhausted, and like life just doesn't listen to you, you're in the perfect place to play "Reclaim My Power." Reclaiming your power is about taking your energy back from situations and people who habitually take it from you. You'll be learning how to NEVER let other people rob you of your power and force. Whenever you go around and around in your mind about situations or people who make you angry — you're giving away your power. Whenever you blame someone for not stepping up to your need for them to do or be what you want — you're giving away your power. All these indicate situations where you're experiencing a "power leak." Power leaks are like battery leaks: they're constant, ongoing siphons of your inner power that drain your manifesting energy day in and day out. You have to plug to these leaks if you ever want to fill up with good, enriching, sweet Universal power again. You have to plug these leaks to move forward and away from old situations, expectations, or people that do nothing but suck your power.
Strong manifestors seek out every power leak and stop it. This Flowdream is a phenomenal "power trip" inside your Flow to find and eradicate all the people, places, and ideas that are dragging you down. Once you see them and free them, you'll experience a huge uplift in not only your own personal energy and enthusiasm, but in almost every other area of your life as well.
Working with this Flowdream will allow you to:
never again lose your power to other people
discover what and who has been sucking your power
"reclaim the blame" so you can be in charge again — not someone else
let go and release people and problems that keep you down
3. Super Inner Yumminess
Super Inner Yumminess is part self-love and part crazy courage! This unique Flowdream boosts both types of feelings about yourself and broadcasts them into your Flow. You ARE a strong, courageous person. You're also adorable, lovable, and deserving. And, these characteristics are beautifully balanced inside you, so you can courageously say "no" to what you don't want just as easily as you say "yes" to what you do. What's more, you are the ONLY ONE in control of your life — and if you've given over that power to anyone else, someone who tells you what you can or can't do, or how you should or shouldn't feel — you'll discover that they have no right to do this any longer and your Flow supports you in this. Summer created this Flowdream after realizing she was allowing her fear of hurting or disappointing others to cripple her own growth. She began working deep in herself to discover where her courage came from, and once she discovered where and how she was giving her power away to other people, she decided to purposely cultivate her own inner strength by practicing feeling it in her Flow.
To stay balanced, she added other feelings she also wanted — of being happy inside herself, of being deserving of all her desires no matter what anyone else said, and of allowing herself to be vulnerable under the right circumstances. This unique Flowdream is the result. It's become one of our Top 10 Most-Loved Flowdreams.
Use this Flowdream to:
discover how courageous you can be
end other people's control over your thoughts and decisions
understand how incredibly full of love, strength, and power you really are
"Program Your Life with Flowdreaming Audios & Meditations"
More Information

Additional Information

Author
Summer McStravick
Type
Audio mp3(s)
Track Length

Track 1: Dazzling Self-Love, 20 minutes

Track 2: Reclaim My Power, 22 minutes

Track 3: Super Inner Yumminess, 15 minutes

Product type
Downloadable Audio
UPC CODE
764575028622
GTIN
764575028622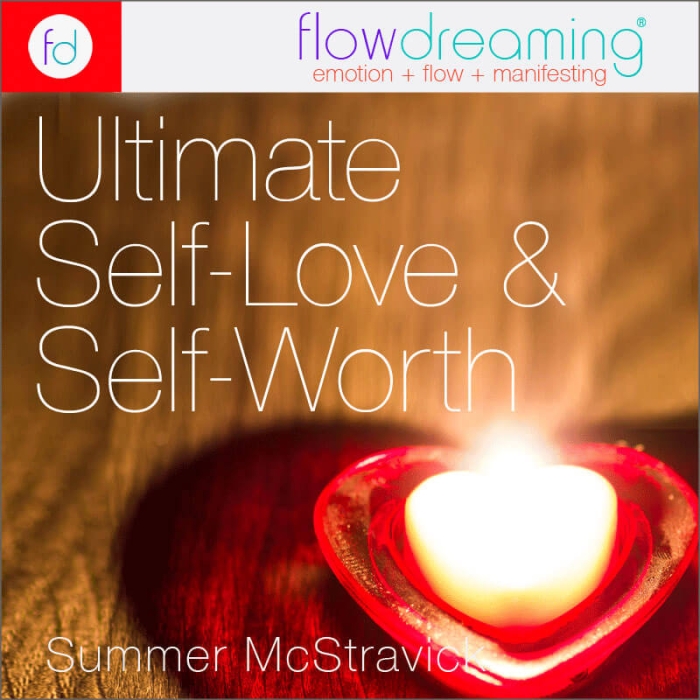 Update Required
To play the media you will need to either update your browser to a recent version or update your
Flash plugin
.
We found other products you might like!