Email to friend
Find Inner Peace and Serenity With God's Help
This powerful Flowdream reconnects you to God's light in a way you may have never experienced before. It guides you into recalling just what you're truly made of, and how intimately connected you are with Source energy.
With God's help, you'll feel like everything is right in your life, that everything will be okay (no matter what is going on right now), and that you don't have to worry because you're in God's hands. There is so much you can achieve by asking God for help.
You'll step out of life for a moment and see yourself and your life from a "big picture" point of view. From this vantage point, you understand that everything that's going on around you is temporary and that despite appearances, you are still lovingly cared for and guided into the best possible circumstances. The help is there, and it's just waiting for you to recognize it.
Call On God's Help
You'll call on God's help and allow this loving spirit to infuse your life with Its intelligence and direction. In this Flowdream, you'll feel what it's like to be in "Heaven," and you'll remember how you're truly made in God's image, where you come from, and how incredibly powerful, courageous, and intelligent you are.
When you come back from your Flowdream, you'll carry this deep sense of peace and acceptance within you. Nothing can trouble or hurt you, and nothing is impossible.
In Heaven, you'll be able to see the way that God sees. You'll be able to be as gentle with yourself as God is with you. You'll remember your unique inner power, and you'll reconnect with the deeper place behind everything.
Unlike other Flowdreams, this one has a softly "God-centered" focus and uses the words as "God" and "Heaven" in a subtle honoring of both Christianity and modern spirituality.
Use this Flowdream to:
remind yourself that everything is temporary, and so-called "troubles" will pass
reconnect to the deeper part of yourself, and remember how genuinely ancient and beautiful you are
feel the actual presence of God in your Flow
step out of your "real" life for a moment, and into your understanding of Heaven, where you become part of the peaceful bliss of total acceptance for All That Is
release all troubles and heartaches, as you experience yourself from a much higher perspective
emerge feeling confident and capable of fixing the "little things" in life
call on God's help and loving grace to intercede in your life and guide you toward the best in all things
If this feels good, consider the complete playlist Heavenly Love, which contains this track as well as another beautiful Flowdream.
"Program Your Life with Flowdreaming Audios & Meditations"
More Information

| | |
| --- | --- |
| Author | Summer McStravick |
| Type | Audio mp3(s) |
| Track Length | 18 minutes |
| Product type | Downloadable Audio |
| UPC CODE | 764575028943 |
| GTIN | 764575028943 |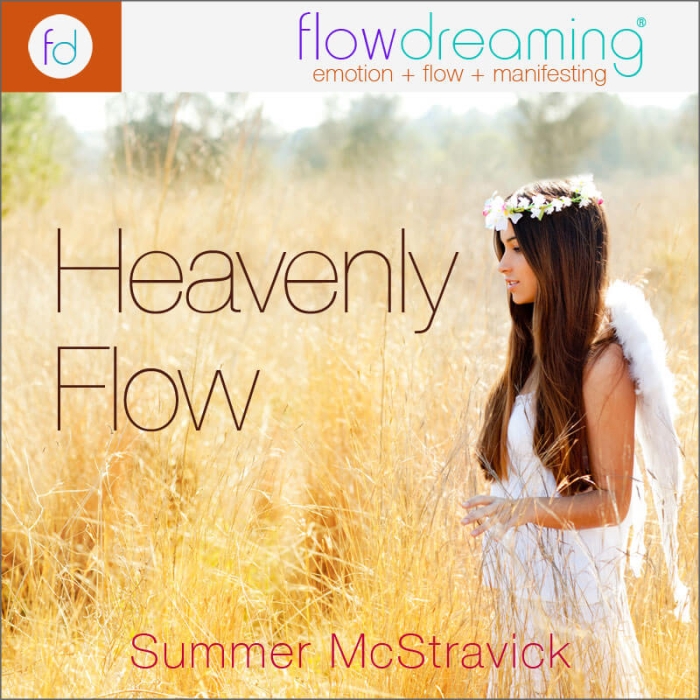 Update Required
To play the media you will need to either update your browser to a recent version or update your
Flash plugin
.
Samples
We found other products you might like!