Program My Amazing Day Meditation + Flowdream Playlist
Email to friend
Start your day with an up-tempo guided Flowdream to create a positive, lucky spin on your day and close the evening out with a soothing, purposeful meditation to preprogram the events of your next morning.
This playlist contains the following two tracks:
1. Program Today: Good Morning, Great Day!
Wake up to a day of clarity, Flow, and magic! Include a Flowdream in your morning routine to help you manifest good things on a daily basis. Play this intensely focused "programming the day ahead" Flowdream to ensure that you step out the door on the right foot. Unlike a traditional meditation, this Flowdream is upbeat and motivating. You'll be guided into your Flow to ask for Divine guidance and timing, and for a multitude of good things to pour into your life in the hours ahead.
You'll feel surrounded by the positive, unobstructed energy of your Flow as you ask that all the right people come, events, and situations get set up for you. You'll set the tone and the intention so that any negativity or disruption that people around you might experience won't spill over on to you. You'll sail high above it, untouchable!
You'll "pre-feel" or pre-act the emotions you want this day to give you: such as for productivity, ease, happiness, and good health and vitality. Best of all, you can do all this magical work in just 12 minutes! Think of it as a kind of "concentrated prayer" to ensure that whatever you run into that day is part of your bigger picture that is keeping you perfectly in alignment in your life. Don't allow yourself to walk out the door with vague or unformed intentions, worry, dread, or a negative state of mind. Just a few moments in Flow can dramatically change the tone of your whole day, week, and month.
2. Program Tomorrow: An Evening Flowdream Meditation
Implant the energies of your life with your hopes and desires for tomorrow. Just focus your thoughts and feelings into this delicious Flowdream Meditation at the end of your day, when you ask specifically for certain situations and conditions to develop the following day. You truly program your day ahead. You'll feel (or pre-act) all the things you want to encounter when you wake up the next morning. Feel rewards and recognition. Feel intimacy and good partnerships. Feel good decisions, or things going your way. You can pre-experience literally ANYTHING that you want to encounter when you wake the next morning.
This evening Flowdream will clear your mind of the day's events and set you up for a fantastic day after. It's especially good for helping you clarify and manifest in the near-short term — within 24 hours. Couple it with the "Program Today: Good Morning, Great Day" Flowdream, and you'll have a perfect morning/evening practice that never lets you get out of alignment with your Source energy. The cumulative effect is a broad upswing toward better and better things in every area of your life...as well as some surprising bonuses!
"Program Your Life with Flowdreaming Audios & Meditations"
More Information

Additional Information

Author
Summer McStravick
Type
Audio mp3(s)
Track Length

Track 1: Program Today: Good Morning, Great Day!, 12 minutes

Track 2: Program Tomorrow: An Evening Flowdream Meditation, 19 minutes

Product type
Downloadable Audio
UPC CODE
764575028530
GTIN
764575028530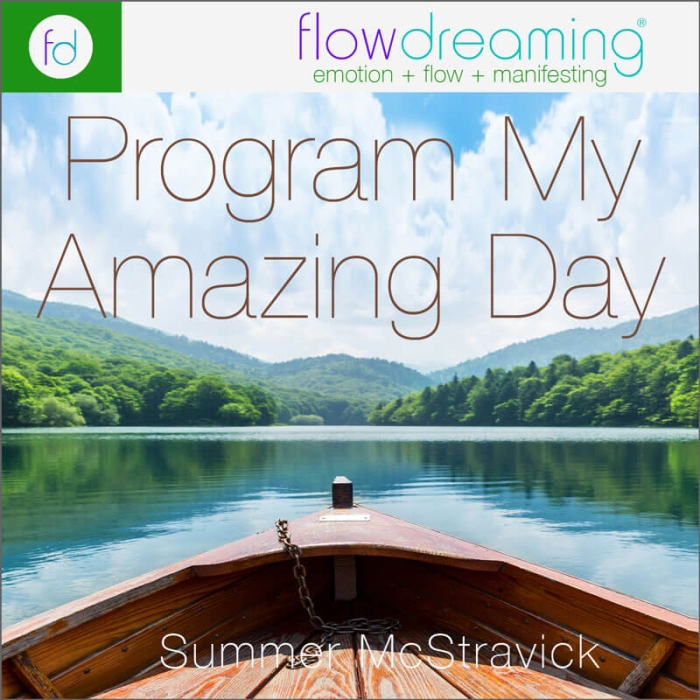 Update Required
To play the media you will need to either update your browser to a recent version or update your
Flash plugin
.
We found other products you might like!