Email to friend
If you're looking for a new and better job, or wanting to transition into a whole new career, this is your Flowdream! It doesn't matter if you're currently working but looking for a new position, or already in-between jobs. This Flowdream grasps the energies of the Flow and turns them toward finding a dream job for you.
Do any of these feelings come up for you when you think about changing careers, or when you're job-hunting?
"I'll never find a job as good as my last one."
"The only job I can get is one just like my last one, and I hated that one."
"I only find lower paying or entry-level positions that I can't survive on."
"I'm under-qualified, over-qualified, or otherwise not a good match for what I want to do."
"I have to work for someone else. I don't have the money to start my own business."
"I'm scared to give up my current sucky job, since I don't know if I can find anything better."
If you feel any of these things, then you've been energizing your Flow with all the reasons why it shouldn't bring you your dream job. Counteract that. In this Flowdream, you feel all the wonderful, fulfilling characteristics of your job.
These could be things like ... flexible hours ... working from home ... travel ... great colleagues ... supportive resources or management that's wildly enthusiastic about you ... lots of self-determination and empowerment ... the ability to indulge your creativity ... being able to make loads of money with no upper limit ... deeply fulfilling sociability or ability to "make a difference" ... or constructive quietude and alone time. YOU decide what your dream job fulfills in you.
This Flowdream helps you feel it while it sets up a template in your Flow to start making this happen. You'll never achieve your dream job until you tell your Flow exactly what your dream job looks and feels like. You MUST give it the directions it needs to know what to go out and gather for you!
"Program Your Life with Flowdreaming Audios & Meditations"
More Information

| | |
| --- | --- |
| Author | Summer McStravick |
| Type | Audio mp3(s) |
| Track Length | 18 minutes |
| Product type | Downloadable Audio |
| UPC CODE | 764575029056 |
| GTIN | 764575029056 |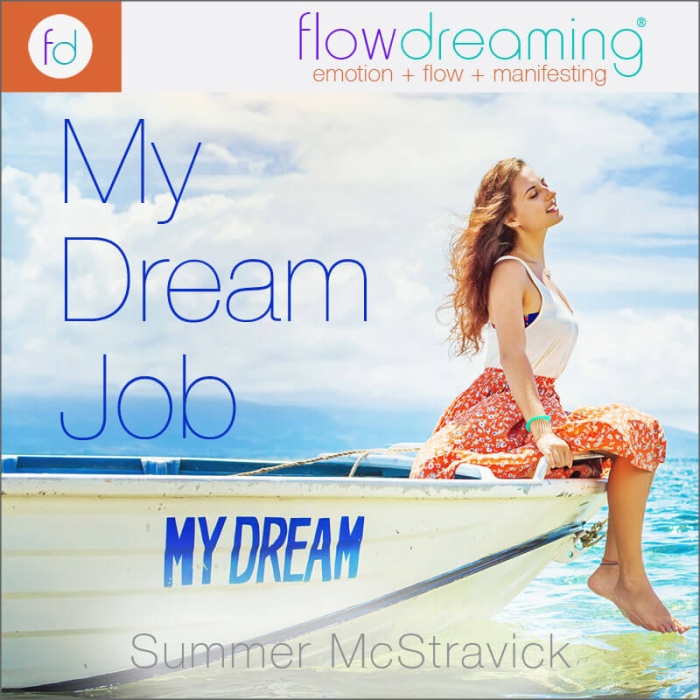 Update Required
To play the media you will need to either update your browser to a recent version or update your
Flash plugin
.
Samples
We found other products you might like!