Restorative Alignment & Trust: A Flowdream Meditation
Email to friend
Has your manifesting stalled out? If so, here's probably why: Often you do a great job sensing and developing your desire, but then you return immediately afterward to a state of doubt and worry, effectively ERASING all the good work you just did! This leaves you in no-man's land as your good energy is continually thwarted by your deeper lack of trust and faith.
To create, every fiber of your being must truly believe and accept. This Flowdream Meditation gets your manifesting moving again by infusing your subconscious with a deep sense of alignment and trust, effectively eradicating that old habit of doubting and fearing. Stop working at cross-purposes! This Flowdream Mediation is your antidote to doubt and worry.
This meditation is PERFECT for those of you who:
want to get rid of counter-productive negative thoughts
spend time worrying and doubting that you can really get what you desire
have felt stalled out in your manifesting, because you've been giving the Flow crossed signals about what you really believe
realize that if you aren't getting what you desire, you probably have a deeper, counterproductive belief running, and you want to weed it out!
want to feel perfectly and beautifully aligned to Flow and Source as you drift to sleep, creating a deep sense of balance, faith, and eager delight inside you when you wake the next day
Use this hybrid meditation-Flowdream either for meditation or at bedtime to prime both your subconscious and energy self with this manifesting emotion.
"Program Your Life with Flowdreaming Audios & Meditations"
More Information

| | |
| --- | --- |
| Author | Summer McStravick |
| Type | Audio mp3(s) |
| Track Length | 25 minutes |
| Product type | Downloadable Audio |
| UPC CODE | 764575065542 |
| GTIN | 764575065542 |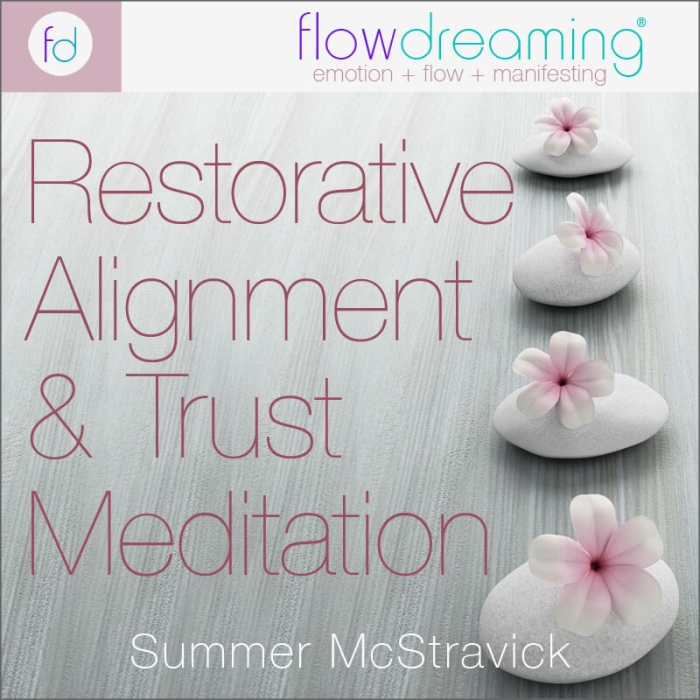 Update Required
To play the media you will need to either update your browser to a recent version or update your
Flash plugin
.
We found other products you might like!