Destress & Detox Meditation Playlist
Email to friend
An amazing combo to both completely relax you and release any old, unhealthy emotional debris in your body. This is an ideal playlist to play at bedtime to clear away the day's troubles and restore optimal health.
This playlist contains the following two tracks:
1. Emotional Detox: A Flowdream Meditation
Restore and flush out toxic emotions with this unique hybrid Flowdream Meditation. As you close your eyes to either meditate or fall asleep, this mp3 fills your mind with gentle guidance for allowing old, stuck emotions to be purged from your body, replacing them with positive, delicious feelings about yourself and your life.
This Flowdream Meditation travels through your body point by point, alighting on each energy storage area inside you and gently coaxing out old fear, stress, and negativity. Beginning with your forehead (crown), you'll address your throat, heart center, abdomen (solar plexus) and groin (root), loosely corresponding each area to your chakra energy points.
You'll dump emotional toxins and fill up again with healthy, restorative energy. The goal of this Flowdream Meditation is to increase your physical vitality and emotional capacity. It's a mood lifter AND a physically restorative experience. If played before bedtime, you can expect a peaceful sleep filled with good dreams. If played during meditation, you'll be able to consciously direct your mind into releasing all kinds of negativity stored throughout your body.
Use this Flowdream Meditation to:
flush emotional toxins out of your body and energy field
cleanse your emotional and mental self before bed (much as you'd shower to clean your physical body)
feel happier, more engaged, and more excited about life again
get a great night's sleep; and totally release all stress in your body.
2. Total Stress Release: A Flowdream Meditation
Use this unique Flowdream Meditation at the office, during lunch breaks, between classes at school, or whenever you need a COMPLETE BREAK from wherever you are. At just under 15 minutes, this mp3 is a perfect length for a quick, quiet escape. Stress and pressure are not your enemies. Their job is to alert you to things in your life that are out of balance ... but all too often, we end up trying to maintain this out-of-balance state for way too long, and the result is grinding pressure and anxiety.
If you've developed unexpected or odd health issues, find yourself unable to sleep, have noticed a growing distance between yourself and the people you love, feel constant irritation, fear, worry, or anger, can't seem to ever fully relax, feel a kind of constant low-grade unease or unhappiness feel like you're facing things you can't resolve and feel confusion about what to do next ... then you have STRESS! Get rid of it.
You can do it, no matter what your circumstances may be. This is one of the best meditations on the market to help you LET GO of stress. You'll be carried away in Summer's soft, soothing imagery coupled with her gentle urging to just put it all down and let everything go into your Flow. Within a few listens, you'll remember what it's like to feel relaxed, free from worry, and at ease in your life and body.
"Program Your Life with Flowdreaming Audios & Meditations"
More Information

Additional Information

Author
Summer McStravick
Type
Audio mp3(s)
Track Length

Track 1: Emotional Detox: A Flowdream Meditation, 30 minutes

Track 2: Total Stress Release: A Flowdream Meditation, 14 minutes

Product type
Downloadable Audio
UPC CODE
764575028240
GTIN
764575028240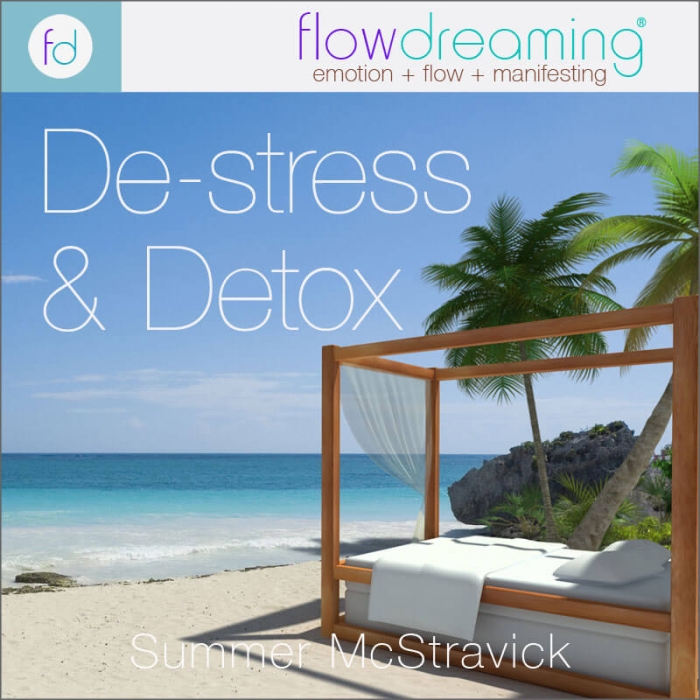 Update Required
To play the media you will need to either update your browser to a recent version or update your
Flash plugin
.
We found other products you might like!