Stop Procrastinating & Get It Done! Playlist
Email to friend
Just get it done! People who use this playlist get four times as much done in a day as usual. Feel invigorated and inspired to clear through any project or task at hand. Clear out clutter, clean up your finances, finish your studies, get a book written, or do ANYTHING with focus and tremendous ease.
This playlist contains the following two tracks:
1. Effortlessly Release Clutter and Organize Your Home and Life
It's time to LET GO, both symbolically and literally! Do it with the greatest ease, best choices, and lightning fast decision-making. Use this Flowdream to feel inspired and motivated to finally let go of the stuff you've piled up around you through the years.
Sometimes, we keep things way past our need for them, and they begin to weigh us down, energetically, emotionally, even physically. We keep stuff because we can't release the memories, hopes, or regrets we've stored in these old things, or because we feel safer and more secure with a crowd of stuff around us. But having old things you've outgrown constantly surround you keeps you walled in and stuck. It can cause depression and anxiety, and can even affect your weight and health. Now is the time to clear out and clean up! You'll experience a remarkably healing process as you open a clear space in your life, receptive and ready to be filled with new, better things.
Use this Flowdream to:
tackle old projects like cleaning the garage or closet
organize or get through old paperwork or taxes
let go of stuff that's taking up energetic space in your life and preventing new better things from arriving
prepare for a move or downsizing
feel less anxious or guilty about being out of control with all the stuff around you demanding your attention
free yourself to move to the next level in your growth and healing — a level with lots of open space ready for what comes next!
2. Overcome Procrastination and Get Things Done
What projects or goals do you keep putting off, day after day, year after year? Projects and goals that you procrastinate on create a kind of "energy drag" that constantly weighs on you. Imagine if every project or goal that you just can't get started on were a metal weight tied to you. If you release these weights, you will fly ahead in ALL the areas of your life — not just the ones you're procrastinating on. In this Flowdream, you'll task your Flow with helping you start or finish that goal or project that you really need or want to do. You'll feel fresh, ready, energized, and prepared. You'll discover how EASY the project or goal is for you, and how you fly through it!
You task your Flow with bringing you the perfect resources to help you, and to create the easiest, quickest, and most effective means for you to get your project done. You'll also feel a sense of pride, accomplishment, and relief at the end. But, the BEST part of the Flowdream is how you charge our yown energy so that you feel excited and up for the task — with your body fueled with energy and your mind filled with enthusiasm. You create a "pocket of Flow energy" from which you become a whirlwind "do-er," getting thing after thing done!
Some of the goals or projects this Flowdream might be good for include:
getting through ALL those old "never get done" tasks on your to-do list
starting or finishing your writing
cleaning out your garage or storage area
getting those old taxes finished
fixing things in your house
moving through an unpleasant or boring chore list
straightening up your finances getting started on your weight-loss program
starting your business ANY project or goal that has been languishing too long in your life!
"Program Your Life with Flowdreaming Audios & Meditations"
More Information

Additional Information

Author
Summer McStravick
Type
Audio mp3(s)
Track Length

Track 1: Effortlessly Release Clutter and Organize Your Home and Life, 10 minutes

Track 2: Overcome Procrastination and Get Things Done, 10 minutes

Product type
Downloadable Audio
UPC CODE
764575028615
GTIN
764575028615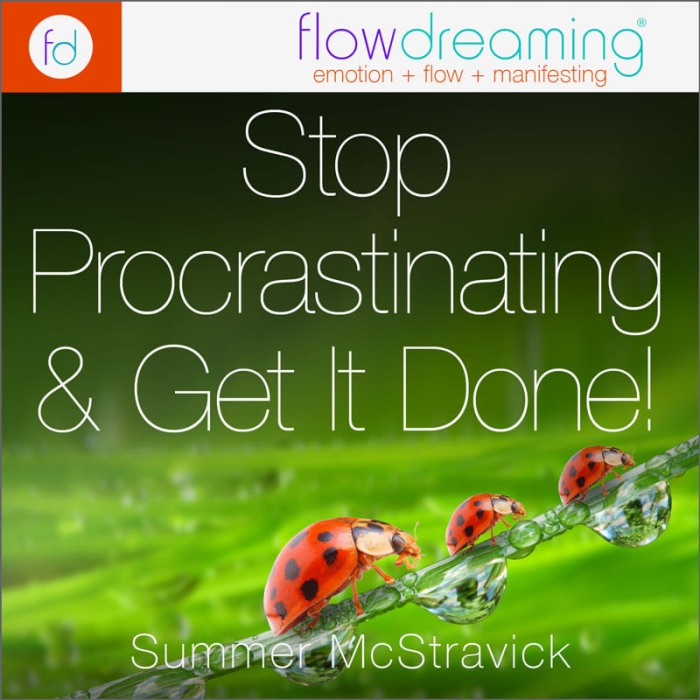 Update Required
To play the media you will need to either update your browser to a recent version or update your
Flash plugin
.
We found other products you might like!