Guided & Fearless Meditation Playlist
Email to friend
Cultivate the qualities of fearless confidence and deep inner direction. Feel protected, on track, and unstoppable in this extremely powerful meditation playlist.
This playlist contains the following two tracks:
1. Strong and Fearless: A Flowdream Meditation
Eliminate fear and self-sabotage. Go to sleep or meditate with a warrior mindset: strong, confident, untouchable. Let the words sink in deeply. You absorb it and believe it. It changes you. Fears often masquerades as something else: self-doubt, insecurity, aversion to risk, inability to say what you want or how you feel, indecision, confusion or feeling stuck. All of these are manifestations of fear that hold back your true power. Fear causes you to expect lack in your future, instead of bounty. It causes you to say, I won't get my needs met.
This unique active-meditation changes this mindset and your own internal energy. Use this meditation whenever you need to tell the Universe you're ready for a real change. You're ready to stop hanging back, and find your innermost powerful self. You're ready to live a life without fear. If you listen enough, you'll discover that this self really is within you. Imagine the relief you'll feel when you make confident decisions without fear and can both go after (and receive) what you really desire. Allow in strength and courage, now.
2. Universal Guidance and Protection: A Flowdream Meditation
Relax into the soothing feeling of being guided and protected in this utterly delicious Flowdream Meditation. Use this at bedtime or as a meditation to feel instantly at ease and safe as you progress through intensely soothing imagery and sensation. You'll release all fear and instead feel how you're being looked after and guided in every way by the highest energies of the universe.
You're led to the Source-filled place inside of all things, where you experience a sense of complete and total protection and strong knowing that any guidance you need is there for you. Here's an extract of just 1 minute of this beautiful, reassuring, calming meditation: "I am a co-creator with the Universe, and with Source. And I am always protected in this agreement. This is a protection that zips me up from the inside, like a zipper closing around my eternal form: flexible, breathable, yet secure and always there. This protection allows only good, right action into my life. It allows only sweetness and joy and excitement into my days. Negativity is bounced off me, sent away, unaligned."
Unlike regular meditations, a Flowdream Meditation allows you to center your mind on certain, select, powerful emotional energies and cement them into your energy field and your day. It's a powerfully unique way to meditate!
"Program Your Life with Flowdreaming Audios & Meditations"
More Information

Additional Information

Author
Summer McStravick
Type
Audio mp3(s)
Track Length

Track 1: Strong and Fearless: A Flowdream Meditation, 26 minutes

Track 2: Universal Guidance and Protection: A Flowdream Meditation, 21 minutes

Product type
Downloadable Audio
UPC CODE
764575028370
GTIN
764575028370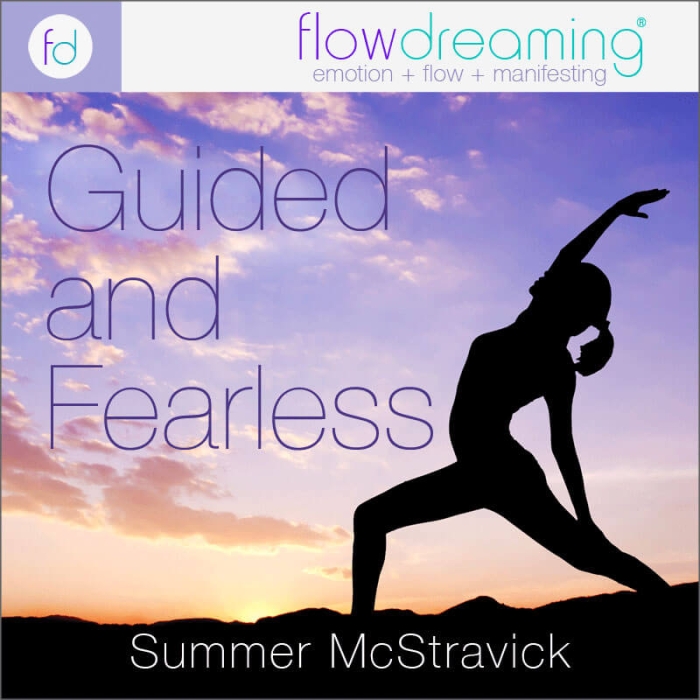 Update Required
To play the media you will need to either update your browser to a recent version or update your
Flash plugin
.
We found other products you might like!