Email to friend
Fighting cancer requires you to reach out on multiple fronts. Work with your body and medicine, and work with your heart and emotion. After surviving Stage 2 breast cancer at 43, Summer was inspired to make a playlist she could turn to even when her mind was the darkest. The day of chemo, the day of surgery, the weeks of healing and pain. She went into Flow and this is what she felt--all captured here in this intimate peek into her heart and energy.
Whether you or someone you love is facing cancer, equip them with the emotional fighting tools they need. This is hard-won, scarce resource. Look and you'll see almost no one has tools for people fighting cancer to truly fight it from their inner emotional space outward. it took Summer two years to release her most intimate and personal playlist. You can hear it in her voice. Let her guide you or someone you love into and out of one of the most difficult journeys a person can face, but you CAN face it.
The three Flowdreams in this set hit hard at each of the areas that cancer attacks: the body, heart, and one's self-trust. This is the best gift you can give yourself or a friend on this journey. This playlist is open-ended, meaning you can use it for any form of cancer in any stage. The Flowdreams are incredibly positive, powerful and uplifting. They are meant to chance the headspace of anyone with just one listen.
1. My Body Is Healed From Cancer
Help your body renew itself and reject cancer from the cells out. You take a journey into your body, talk to your body, and set up the emotions and energy for your body to thrive during any form of treatment or recovery. We look at your body as a healer and life-giver, with decades of life ahead of it.
2. My Heart Is Healed from Cancer
Most people with cancer suffer from hurt, fear, and confusion, but their hearts are their strongest ally in the fight against cancer. The Flowdream helps you soothe your heart and bring it on board the fight. Your heart will dump years of sadness, regret, guilt, pain, and anything else that can weight you down. You have just one mission right now: to heal. Give your heart the love and goof feelings it needs to help you conquer this.
3. My Trust Is Healed from Cancer
It's no secret, those going through cancer become haunted with a fear of it's return. In conventional medicine, there is no cure -- only remission -- leaving open the door for constant fear and self-doubt. You have to banish this to thrive. That's why this Flowdream uses words like "cure" to help you psychologically move from "waiting for the next shoe to drop" to instead feeling powerfully resilient and ready for life. Just because you got cancer doesn't mean God has forsaken you, or that the Universe doesn't care. Your trust in life, and in having a long glorious future, can be renewed. Play this Flowdream to explore how.
Legal Disclaimer! This is really important legal stuff: Please know that these tracks alone will not cure cancer. They are intended to create emotional and energy support for both treatment and recovery. Any words used in these tracks, such as "cure," are intended ONLY to create an emotional state that facilitates a mindset for robust health. THESE TRACKS WILL NOT CURE your cancer. We make no promises that your cancer will heal, be cured, or go into remission as a result of using them. We urge you to consult with your medical professional and take all recommended steps for treatment. These tracks should not be a substitute for comprehensive medical care and is not intended or implied to be a substitute for professional medical advice, diagnosis or treatment, nor is this audio intended to diagnose, treat, cure or prevent any disease.
More Information

| | |
| --- | --- |
| Author | Summer mcStravick |
| Type | Audio mp3(s) |
| Product type | Downloadable Audio |
| UPC CODE | 764575065856 |
| GTIN | 764575065856 |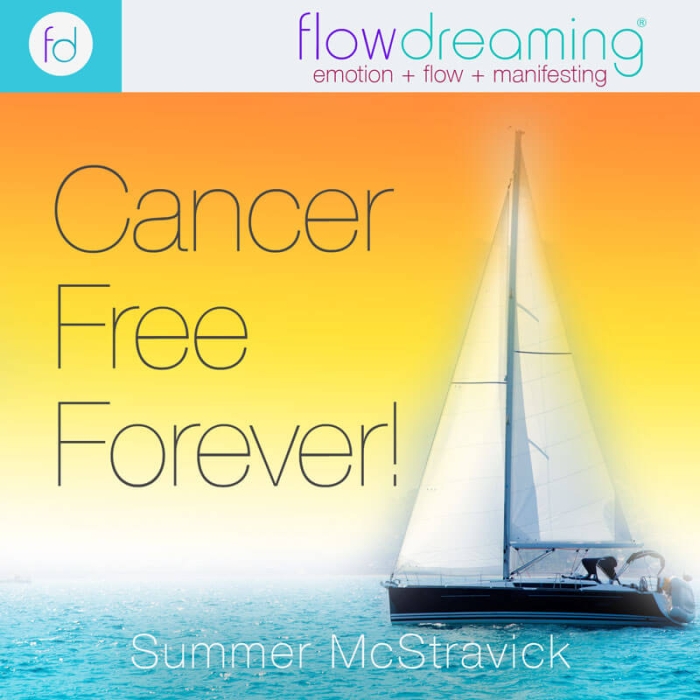 Update Required
To play the media you will need to either update your browser to a recent version or update your
Flash plugin
.
We found other products you might like!