Bountiful Receiver Playlist
Email to friend
May your arms be filled with treasures, may your heart be filled with warmth. Bountiful Receiver takes you to a place where you are the luckiest person alive. You win things, you're at the right time at the right place, and so much is constantly being given to you that you shake your head in amazement. Four luscious Flowdreams move you into intense feelings of being lucky, feeling abundant, and knowing that all your needs will be met. The playlist emphasizes feelings of allowing, luck, and deservingness.
Track 1: Super Lucky (12 min)
Something magnificent is coming to you! It's something extraordinary that will make a positive change to the rest of your life. You'll be excitedly saying to all your friends and family, "I was so lucky it happened to me! To ME! Can you believe it?!"
This beautiful Flowdream takes you into the middle of this feeling so you can charge up your Flow to create immense luck in your life. We call Lady Luck to us, and the Universe happily answers as the energy of luck swirls into our life and begins generating all kinds of good things. You will love how you feel at the end of this audio when you sense that you are a lucky person and the Universe and Flow bless you with bounty.
Use this Flowdream that attracts good luck to:
generate a windfall of positive things in your life
reverse feelings of being unlucky or undeserving of the Universe's bounty
attain a super positive frame of mind and a joyful sensation throughout your day
cultivate a sense that many magical opportunities and incredible situations are making their way into your life
Track 2: Winner's Mindset (11 min)
Win things everywhere you go! This Flowdream concentrates on creating lucky, winning energy all around you. Perfect for using before buying lottery or raffle tickets, gambling, going to the racetrack, entering sweepstakes, being selected for a prize or contract, or any other time when you need a strong win.
You'll be surprised how often you'll use this track. Even if you never gamble, you'll discover that you're often in a position where something valuable is being given away...and you're the happy receiver! Win writing contests, tickets to sports events or concerts, free giveaways at the grocery store or gas station, or get that free extra trip ticket with a friend ("Hey, my other friend can't go, want to go instead? It's on me!) . . . the list is endless.
Use this Flowdream to create a winning mindset when:
accepting an wonderful offer or free gift from a friend or business
entering a sweepstakes or raffle
betting or gambling
winning a prize or contract, or being selected above anyone else
you want to feel centered, lucky, and positive whenever you're facing a win/lose situation
Track 3: Everyday is My Birthday (15 min)
Imagine a towering pile of shiny presents, all with your name on them! Gifts that the Universe is giving you every single day of the year—not just on one special day. Use Everyday Is My Birthday all year round year to experience the rich feeling of knowing the Universe pours gifts your way day-after-day and surrounds you with abundance. Experience the soft relief of knowing that your future is bright with opportunities and support. Feel it, and so it becomes.
This Flowdream brings together multiple feelings into one rich experience that combines deep gratitude with knowing you're a great receiver who's walking into a mountain of gifts and happy events.
Use Everyday Is My Birthday to:
acknowledge and receive a huge pile of gifts and fortune the Universe has piled up and ready for you.
cultivate a feeling that good things aren't few and far between. Instead, they happen daily in your world.
re-open your heart and expectations to the universal flow of bounty and abundance.
fill up with feelings that you're already receiving exactly what you need or whatever will make you the most happy—even if you don't know what that is yet.
heal feelings of distrust and disappointment that have negatively impacted your life.
Track 4: Amazing Receiver (14 min)
It feels good to give, and it feels just as good to receive. Yet many of us struggle with receiving. Let's break through any negative feelings you were taught to feel around receiving. You are not selfish. You are not taking more than your fair share. You do not need to be last line. It's time to reeducate your soul to open the floodgates to receiving all the good things you've truly earned over your life. Start receiving, and you'll be astonished how much the Universe has for you, now that you can finally open the door to it.
This Flowdream helps you to:
allow and accept all the good things you've earned
put yourself first for once
take time for yourself instead of always squeezing in your needs last
get back in balance with giving and receiving, so you can stop feeling like a worn-out husk all the time
learn just how much is waiting there for you, once you truly let universal abundance in
This Bountiful Receiver playlist is wonderful when paired with the meditation playlist Overnight Riches, which includes three gorgeous Flowdreams you can fall asleep to that help your income and ability to receive. You might also enjoy Manifest My Ultimate Best Outcome Playlist, with its delicious Super Juicy Gratitude Flowdream.
More Information

Additional Information

Author
Summer McStravick
Type
Audio mp3(s)
Track Length

Super Lucky - 12:16 min

Winner's Mindset - 11:00 min

Everyday Is My Birthday - 15:11 min

Amazing Receiver - 14:00 min

Product type
Downloadable Audio
UPC CODE
764575066280
GTIN
764575066280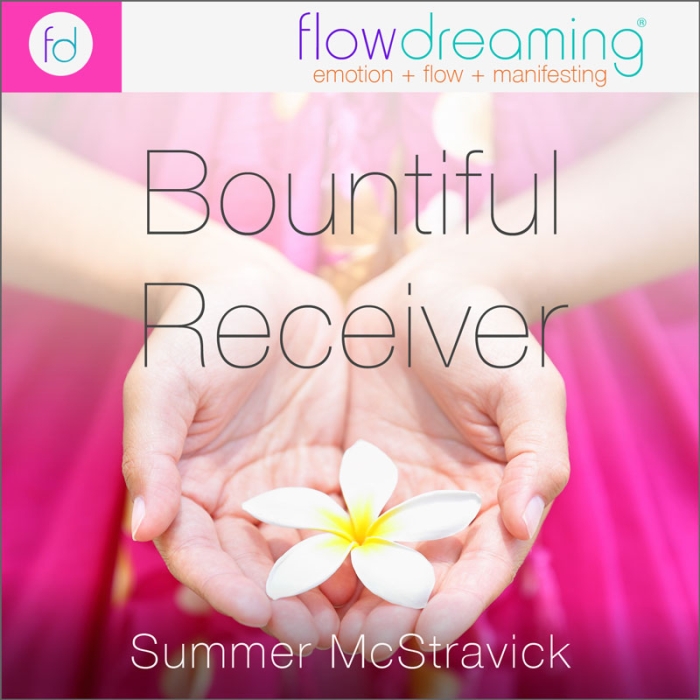 Update Required
To play the media you will need to either update your browser to a recent version or update your
Flash plugin
.
We found other products you might like!