A Perfect Beginner's Set Playlist
Email to friend
Learn to Flowdream with this perfect set of the classic book plus two Flowdreams to use through your week. This Playlist includes:
1. Flowdreaming Book, 2nd Edition Revised and Updated PDF
Start by reading the 128-page book "Flowdreaming," now completely revised and updated. This book walks you through the basics of getting into Flow to change your world. It picks up where the "Learn to Flowdream Free Kit" leaves off. Note: This is a downloadable PDF for you to view on screen or print at home.
Then cast away into co-creating and manifesting with two additional Flowdreams perfect for beginners:
2. Pure Flow
Experience the delicious feeling of being aligned to your highest good as you move into the perfect direction in all areas of your life. This Flowdream teaches you feel absolute trust that you're being guided and directed. It also allows you to let go into Fow and release all negativity and lack-thinking.
Use this Flowdream to:
get back on track whenever you feel lost, stuck or anxious
drop into feelings of your life being sooth and easy
feel clear-headed and energized
3. Program Today: Good Morning, Great Day!
Wake up to a day of clarity, Flow, and magic! Include a Flowdream in your morning routine to help you manifest good things on a daily basis. Play this intensely focused "programming the day ahead" Flowdream to ensure that you step out the door on the right foot. Unlike a traditional meditation, this Flowdream is upbeat and motivating. You'll be guided into your Flow to ask for Divine guidance and timing, and for a multitude of good things to pour into your life in the hours ahead.
You'll feel surrounded by the positive, unobstructed energy of your Flow as you ask that all the right people come, events, and situations get set up for you. You'll set the tone and the intention so that any negativity or disruption that people around you might experience won't spill over on to you. You'll sail high above it, untouchable!
Use this Flowdream to:
"pre-feel" or pre-act the emotions you want this day to give you: such as for productivity, ease, happiness, and good health and vitality
get into Flow in just 12 minutes
ensure that whatever you run into that day is part of your bigger picture that is keeping you perfectly in alignment in your life
ensure that you're not walking out the door with vague or unformed intentions, worry, dread, or a negative state of mind dramatically
change the tone of your whole day, week, and month
More Information

| | |
| --- | --- |
| Author | Summer McStravick |
| Type | PDF Book + mp3(s) |
| Track Length | Pure Flow - 8:53 min Program Today: Good Morning, Great Day! - 12:00 min The Flowdreaming PDF Book - 128 pages |
| Product type | Downloadable Audio |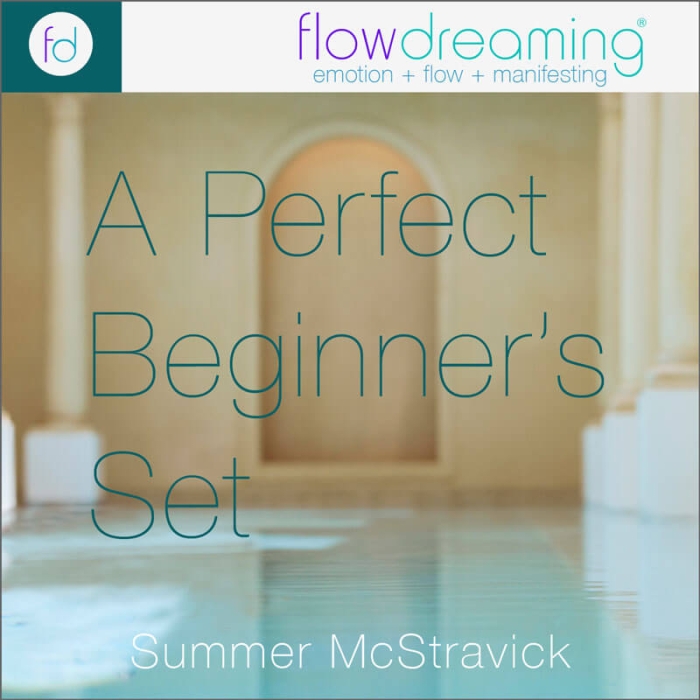 Update Required
To play the media you will need to either update your browser to a recent version or update your
Flash plugin
.
We found other products you might like!