Repel Negativity & Create Protection
Email to friend
If you feel burdened by the negativity and worry of the people around you, or feel held down by repressive, negative situations in your life, then use this Flowdream to change your energy state and break yourself free, and return to your natural, positive flowing state.
Sometimes our family, workplaces, school, friends, or other people or places can be full of the heavy negative energies of worry, fear, envy, pessimism, and other unhappy states. When we interact with these people or places, we can take on these feelings, leaving us depressed, upset, moody, and unhappy for no good reason. Those of us who are especially empathic or sensitive are the most affected by negative energies around us, and we need to continually keep ourselves cleaned and free of the leftover energy burdens of others.
If you've been feeling bitter, moody, unsatisfied, upset, impatient, or pessimistic, then you will benefit from this mp3. This Flowdream allows you to see and recognize which people and places might be loading on negative energy in your life, and helps you clear it out of your Flow. in addition, any other negativity you might have picked up elsewhere is also washed away. Not only does it wash away current backlogs of negativity, but it repositions you so that the people and situations causing the negativity are washed out and away from your life.
This Flowdream uses Flow energy to disperse negativity back into the Flow, and creates a shield of protection around you. It also calls on (according to your own beliefs) God, Source, angels, your Greater Self, and/or all the energies of Flow to lift you out and away from any negativity in your life.
Use this Flowdream to:
get out from under depression or pessimism
be released from fears and troubling nightmares
repel negativity from non-physical sources
create a shield of protection around you
release and replace the negativity around you with positive, flowing energy, and feel how the people and places causing the negativity gradually dissolve out of your life
"Program Your Life with Flowdreaming Audios & Meditations"
More Information

| | |
| --- | --- |
| Author | Summer McStravick |
| Type | Audio mp3(s) |
| Track Length | 10 minutes |
| Product type | Downloadable Audio |
| UPC CODE | 764575065535 |
| GTIN | 764575065535 |
| Manufacturer | Flowdreaming |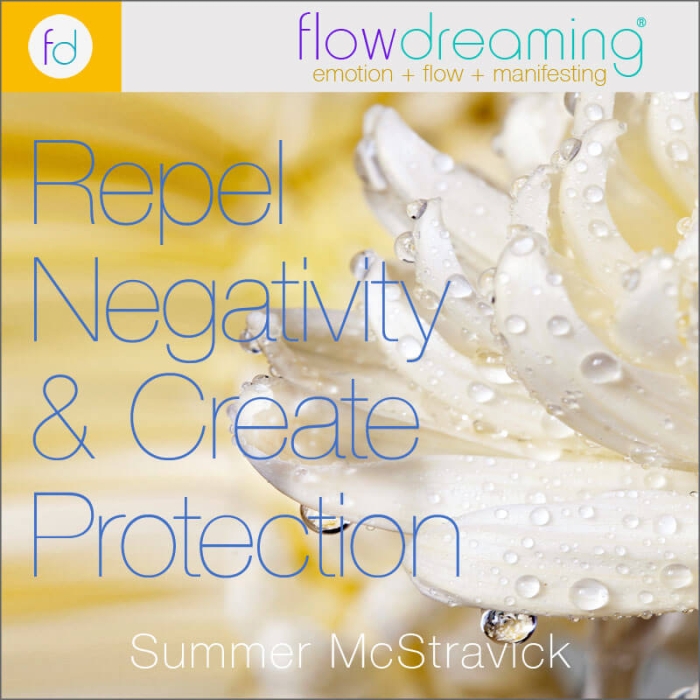 Update Required
To play the media you will need to either update your browser to a recent version or update your
Flash plugin
.
We found other products you might like!