Free From Habits and Addiction
Email to friend
Is it cigarettes? Food? Alcohol? Drama? Bad relationships? Gambling? Shopping? Sex? In other words, what are you doing to try to fill up some empty spot? How are you self-medicating? Whatever it is, you've had enough. Your addiction has run its course. Whatever help it once gave you has since turned on you. You are no longer YOU. You are under the spell of your addiction. No longer.
Use this Flowdream every time you feel the craving. Call in help from your Flow, from Source, from your own Higher Guidance. Constantly refocus the energies of yourself and your life into a new path — one free of addiction. Cigarettes will lose their appeal. Alcohol won't numb you and let you escape your stress anymore. Negative drama and unhealthy partners won't make you feel alive. Gambling won't get you away from it all, or even thrill you. Food or sex won't fill any emptiness. And why? Because you are healed in all these areas. There is nothing to escape, or fill, or numb. Nothing.
You are free. You are full. At just 10 short minutes, you can play this Flowdream anywhere, anytime you need it. Whether daily, twice daily, or on "continuous repeat" — whatever you need. It will help you reconnect with your deepest, wisest self, and in this place, you'll completely drop your need for your habit.
Have this Flowdream on hand when you need it. It rockets you straight into courage, self-honesty, and a curiously happy joy at conquering anything that tries to keep you down. Note that this is NOT self-hypnosis. Flowdreaming is an active process that takes you into an intense energy state where you can connect with Source energy, your own stronger self, or simply the energy of Flow, which carries you toward your best options, always.
Use this Flowdream to:
feel immediate relief from intense cravings
gently release you from long-term addiction
help you replace your addiction with healthy, truly fulfilling actions and thoughts instead
give you comfort and a sense of strength in the instant that you need it
"Program Your Life with Flowdreaming Audios & Meditations"
More Information

| | |
| --- | --- |
| Author | Summer McStravick |
| Type | Audio mp3(s) |
| Track Length | 12 minutes |
| Product type | Downloadable Audio |
| UPC CODE | 764575028912 |
| GTIN | 764575028912 |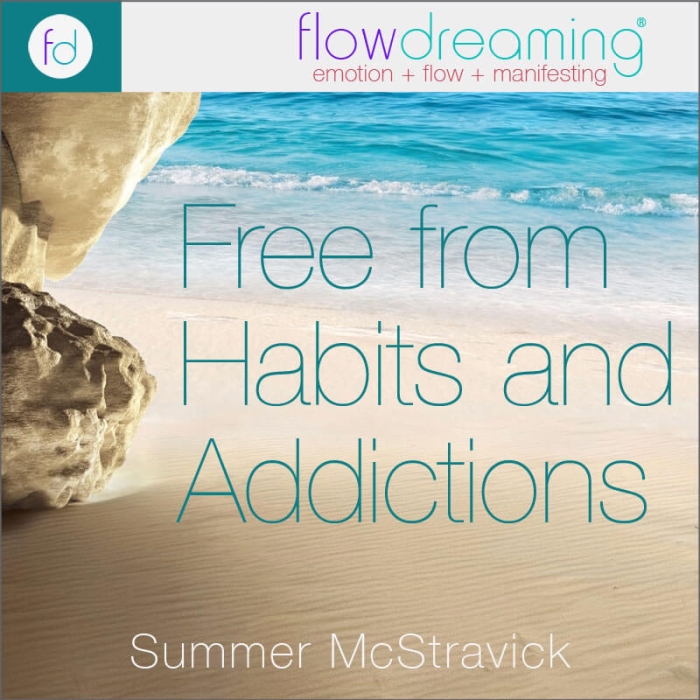 Update Required
To play the media you will need to either update your browser to a recent version or update your
Flash plugin
.
We found other products you might like!